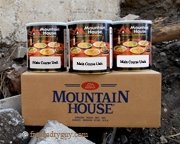 Phoenix, Arizona (PRWEB) August 17, 2012
Whether it is natural or man-made, disasters around the world happen constantly, and without any warning. These disasters bring with them uncertainty and unrest, as daily needs that we take for granted, such as food and water, become unavailable. That is why Freeze Dry Guy stresses the need for an emergency preparedness plan.
According to FEMA, hurricane season lasts June to November, with the peak of the season occurring August to October. If you don't already have an emergency plan in place, now is the time to prepare one.
Hurricanes and earthquakes are some of the main disasters that can cause this type of turmoil. These storms are very frightening and can force people out of their homes for long periods of time depending on the severity. Stores and other establishments close as well, causing people to be left without supplies.
When disasters like these or any others strike, you should in the position to keep your loved ones and yourself safe. That is why emergency preparedness should be something that everyone takes part in.
Freeze Dry Guy knows the importance of emergency preparedness and has put together some quick tips on how to be prepared for emergencies like the ones discussed above.
1. Water is one of the most important things to have on hand because the human body can only go a few days without it. Make sure you have stored enough water to fulfill your drinking, cooking, and washing needs.
2. Freeze dried foods are a necessity to have on hand. These foods have a very long life, lasting for a minimum of 25 years. They are delicious and provide you with the nutrients needed to gain energy and deal with a disaster. Freeze dried foods are perfect for these situations since they are lightweight and easy to prepare.
3. Dehydrated foods are another great addition to your food list. They have the same benefits as freeze dried foods, while offering different varieties. When stored properly, these foods last up to 20 years. Choose the right foods for you and for family by taking into account everyone's preferences and food allergies if some exist.
4. First aid kits should be ready at all times, since in most cases, medical assistance will not be available in a timely manner.
5. Survival supplies need to be available such as tools, battery powered radios, water filters, backpacks, etc. in order to provide your family with a level of safety and comfort.
About Freeze Dry Guy
Freeze Dry Guy offers a wide selection of freeze dried entrees, meats, fruits, and vegetables. In addition to their freeze dried food products, Freeze Dry Guy also offers dehydrated foods, preparedness items, and specialty foods which include gluten-free, vegetarian, and organic options. Freeze Dry Guy has been in operation, and helping families with food security and emergency preparedness, for over 42 years.
For more information on how to be prepared, please visit here, or contact Freeze Dry Guy today for a free customized plan.