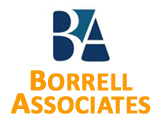 a new set of sophisticated tools – including social media – are ripe for development
WILLIAMSBURG, VA (PRWEB) August 15, 2012
Real Estate is now the biggest advertising category across digital media (both online and mobile combined), according to a report released today by Borrell Associates Inc.
At just over $13 billion in 2012, Real Estate now outpaces Automotive as the No. 1 online advertising spending category, according to Borrell's "2012 Real Estate Advertising Outlook." That news comes despite an overall decline in real estate advertising, down 16% this year. The online portion, Borrell Associates says, is up 15% and now represents more than half of real estate advertising expenditures. The category includes spending by realty agents and brokers, mortgage lenders, rental managers and developers.
Borrell Associates' report details the underlying reasons for changes in the $23 billion advertising category. While home sales and new construction are enjoying a slight but noticeable rebound, agents continue to shift marketing dollars to more efficient, less costly channels such as the Web, mobile, email marketing and social media. That's prolonged the erosion of spending in newspapers, magazines, radio, TV and direct mail – all of which are showing advertising declines this year despite the mild rebound in home sales.
The report details a great deal of jockeying within the online space. The onetime "category killers" in the online real estate space – Realtor.com, AOL Real Estate and Yahoo! Real Estate – have all seen traffic declines in the past 12 months. Meanwhile, nimble upstarts like Zillow, Trulia and Homes.com have elbowed into a Top 5 position in terms of unique visitors to real estate sites.
Borrell Associates says that real estate advertising is entering a new period of disruption that will further shake up the marketplace. The traditional channels of banner advertising and paid listings are on the wane, and a new set of sophisticated tools – including social media – are ripe for development. The report details research showing that real estate agents are actually behind the curve in the adoption of social media, and says that conditions are "ripe" for companies that can serve pent-up opportunities to help connect agents with homebuyers and sellers.
About Borrell Associates
Borrell Associates is an advertising research and consulting firm that assists local media websites in maximizing their ad revenue. Borrell Associates helps media companies to develop and implement fact-based strategies and ad-sales tactics supported by our proprietary local ad-spending data through products such as the Compass Report that details local ad-spending patterns for 100 businesses across 13 media. In 2011, Borrell Associates acquired Belden Interactive, a leading survey research firm studying ad-spending intentions at the local-level by SMBs. With 18 employees, Borrell Associates is based in Williamsburg, VA with an additional office in Seattle.