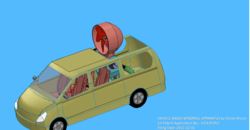 "...you can't have a car with a windmill on it"
Iowa (PRWEB) August 16, 2012
American inventor Daniel Bruno has designed a wind turbine automobile to help solve the
climate crisis and was granted patent 13/419,953 by the United States Patent Office in Washington, D.C.
Inquires from engineers, manufacturers and the press are welcome.
This is a simple description of the car's wind turbine mechanics:
A wind turbine is attached to rear of vehicle and held down in a horizontal position below the roof by springs. A piston mechanism to resist the springs' downward force is connected to the driver's brake pedal via hydraulic brake lines. When the brake is applied, pressure from the driver's foot increases to overcome the spring pressure and the wind resistance as the propeller is raised to the vertical position. In the process, the blades spin and torque is applied via universal joints to a generator that creates electric power. The large, raised fan helps stop the vehicle and the wind turbine retracts as the pedal pressure falls.
The Huffington Post Union of Bloggers web site has published the first details of the car turbine patent here:
http://hpub.org/car-windmill-brakes-vehicle-and-powers-motor-vehicle-based-windmill-apparatus-us-patent-application-13419953-filing-date-2011-12-31-by-daniel-bruno/
A computer model of the wind turbine shows that under average conditions, Bruno's invention could extend the Chevy Volt's lithium battery range by 50% between re-charges.
The Huffington Post Union of Bloggers is reporting that Mitt Romney was asked about renewable energy automobiles such as Daniel Bruno's wind turbine car and promptly dismissed the idea, saying that "You can't drive a car with a windmill on it."
According to the LA Times print edition, speaking in Oskaloosa, Iowa on August 14, President Obama chided Romney for disparaging renewable energy technology and used Romney's 2012 remarks about windmills on cars to remind voters about the dog on car roof incident that caused a media sensation in Massachusetts in 1983. Romney's dog Seamus was tied up for hours on top of Romney's sedan during an election road trip. Dog lovers were outraged.
The Huffington Post Union of Bloggers contacted Daniel Bruno by telephone about Romney's remarks and quoted him as saying that "you cant drive a car with an oil well on it either. The Greenland ice sheet has melted away and July was the warmest month in recorded history. Government policies that espouse further increases in fossil fuel consumption are the real threat to national security and will surely bring on a climate catastrophe in our lifetime. "
HPUB welcomes additional inquires into this article as well as into the organization itself. The Huffington Post Union of Bloggers (HPUB) is a non-profit corporation. It is a diverse collective of bloggers, thinkers and writers who come together in one virtual place to inform, speak out and assist in the transformation that must come to the political and economic system of the United States. HPUB supports Occupy Wall Street.
HPUB policy is to promote quality original and reprinted material that is timely and informative. HPUB is especially interested in material that is censored by the corporate media or comes from whistleblowers. HPUB is not affiliated with any political party, but it supports Occupy Wall Street and the struggle for genuine, multi-party democracy in the United States.
Sources:
Huffington Post Union of Bloggers
http://hpub.org/car-windmill-brakes-vehicle-and-powers-motor-vehicle-based-windmill-apparatus-us-patent-application-13419953-filing-date-2011-12-31-by-daniel-bruno/
Daily Nation
http://mobile.nation.co.ke/News/Obama+Romney+tilt+at+windmills+wage+coal+wars/-/1290/1479610/-/format/xhtml/-/v4879yz/-/index.html
La Patilla
http://www.lapatilla.com/site/2012/08/14/obama-y-romney-se-enfrentan-por-fuentes-de-energia/
Renovable
http://latinoamericarenovable.com/?p=2050
Chinook
http://chinook.etsmtl.ca/2012/08/mieux-vaut-tard-que-jamais/
Los Angeles Times August 14 print edition page 5 continued