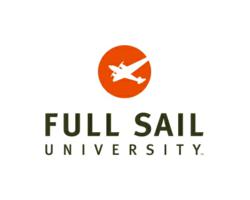 "It's our goal to provide the most cutting–edge approach to technology, art, and media within our curriculum, which is why we were delighted to work with Google to expand on this concept within our YouTube channel."
WINTER PARK, FL (PRWEB) August 16, 2012
August 15, 2012 – Full Sail University is proud to announce the launch of its new YouTube channel: http://www.youtube.com/fullsailuniversity, which was designed and developed by the university's in-house creative agency, Platinum Creative. Google worked alongside the university to implement custom YouTube channel technology for desktop users, providing visitors with a very different and original YouTube experience.
Full Sail University's new YouTube channel is interactive and features original animation designed to invite viewers to experience dynamic visuals, as sections unfold in an origami-like fashion to present multiple viewing options. The new channel provides engaging content ranging from tutorials, insider how-tos, and student projects, to guest speakers, industry experts, and on-campus events. This allows for an in-depth view of what it is like to attend Full Sail, while showcasing the incredible talents of both the current student body as well as alumni.
"We saw a huge opportunity with the custom YouTube channel to open up a window to what happens every day on this unique and inspiring campus. Our students create such incredible video content and YouTube is the perfect platform to get it out to the world," said Craig Daily, V.P. of Platinum Creative, Full Sail University. "It's our goal to provide the most cutting–edge approach to technology, art, and media within our curriculum, which is why we were delighted to work with Google to expand on this concept within our YouTube channel."
The launch of the new channel takes place just a few months after Full Sail University was recognized as one of the "Top 100 Social Media Colleges" by Studentadvisor.com, which serves as testament to the institution's continual growth in utilizing social media to engage and communicate with its ever-expanding community of students, staff, faculty, industry outlets and those interested in learning more about Full Sail. Subscribers to the official Full Sail University channel have the opportunity to keep up with exclusive and up-to-date video content from the university.
About Full Sail University:
Full Sail University is an award-winning educational leader for those pursuing careers in the entertainment and media industry. Founded in 1979, Full Sail has been recognized as one of the Top Five Game Degree Programs by Electronic Gaming Monthly, one of the Best Music Programs by Rolling Stone Magazine, and one of the Best Film Programs by UNleashed Magazine. In 2011, Full Sail received the "21st Century Best Practices in Distance Learning Award" from the United States Distance Learning Association, was named the "School/College of the Year" by the Florida Association of Postsecondary Schools and Colleges, and was recognized as one of the Top 100 Social Media Colleges by Studentadvisor.com.
Full Sail offers on-campus and online Master's, Bachelor's, and Associate's degree programs in areas related to animation, art, business, education, graphic design, film, marketing, web development, music, recording arts, sports, and video games. Full Sail graduate credits include work on OSCAR®, Emmy®, GRAMMY®, ADDY®, MTV Video Music Award, and Spike Video Game Award nominated and winning projects.
http:// http://www.fullsail.edu
http://www.twitter.com/fullsail
http://www.facebook.com/fullsailuniversity
###