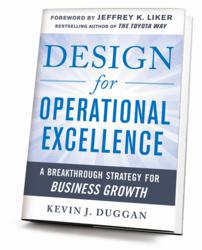 This event will help attendees understand how to set a destination of OpEx, and how to achieve it
North Kingstown, Rhode Island (PRWEB) August 17, 2012
The Institute for Operational Excellence, the leading educational center providing training and innovative products for achieving Operational Excellence, announced today that its founder, Kevin Duggan, will be presenting at the 38th annual Operational Excellence Conference organized by Partners in Business, a student-run, non-profit organization sponsored by the Jon M. Huntsman School of Business at Utah State University.
The conference is designed to offer attendees opportunities to learn about innovative ideas and methodologies to achieve Operational Excellence. On day one of the event, Duggan will deliver a keynote address on "Applying Operational Excellence for Real Business Results," during which he'll discuss the step-by-step process for achieving Operational Excellence to facilitate real business growth in any industry, in any economy.
"Instead of embarking on a never-ending journey of continuous improvement, this event will help attendees understand how to set a destination of Operational Excellence, and how to achieve it," said Kevin Duggan, Founder of the Institute for Operational Excellence. "The Jon M. Huntsman School of Business' Operational Excellence conference is an established forum for sharing best practices attendees can apply to improve their organizations, and I'm honored to take part in this year's event."
During the conference, Duggan will sign copies of his latest book, Design for Operational Excellence: A Breakthrough Strategy for Business Growth, published by McGraw-Hill in 2011, at the Eccles Conference Center Lobby.
The event will be held October 3-4, 2012, in Logan, Utah. The Institute for Operational Excellence is a gold sponsor of the conference. Registration and additional information is available on the event's website.
# # #
The Institute for Operational Excellence is a recognized leader and expert resource for organizations and individuals who want to design their enterprise to achieve Operational Excellence. Their renowned faculty has helped hundreds of global companies – from startups to Fortune 500 firms – with a wide range of offerings including training events, online teaching, conference speakers and informational articles.