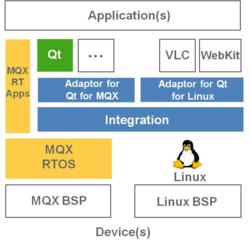 This has to be the most productive way anybody has to develop GUI apps on the K70 right now. -- Software Engineer
San Francisco, CA (PRWEB) August 17, 2012
Motomic Software, Inc. announced today Motomic Adapter™ for Qt for Freescale's Kinetis™ "K" series microcontrollers. Developers can now use Qt, the premier open source applications development framework, to create applications for Freescale's Kinetis MCUs running Freescale MQXTM real-time operating system (RTOS).
Freescale is the foremost manufacturer of low-power microprocessors.
The dramatic rise of embedded devices in industrial, consumer, automotive and mobile markets, and the equally dramatic increase in connected devices, fuel the need for Qt application development on low-power devices like Freescale's Kinetis, based on ARM Cortex-M4 technology. Compared with Linux, MQX provides high performance and real-time determinism and draws significantly lower power, all within a smaller footprint. However until now there has been no way to develop Qt applications for MQX.
Motomic Adapter for Qt for Kinetis brings Freescale MQX to the demanding needs of traditional embedded developers seeking to serve wider markets beyond simple graphical UIs. Motomic Adaptor for Qt for Kinetis is the latest in a series of Motomic adaptors for Qt. It replaces Qt's Linux kernel with MQX, enabling Qt to run on Freescale's high-performance, highly reliable MQX RTOS.
Motomic Adapter for Qt for Kinetis enables the combination of the feature-rich Qt development environment and real-time MQX, providing the following benefits:

MQX real-time performance, low power consumption and determinism,
Qt integrated development tools with high runtime performance,
Develop applications on a Windows, Linux or Mac host PC and run under MQX and
Leverage single source across MQX, Windows, Linux and Mac.
Architecture of Motomic Adaptor for Qt
Motomic Adaptor for Qt for Kinetis will be available through the ARM/Avnet Embedded Software Store later this month.
More information about Motomic's offerings for Qt can be found on Motomic's website.
About Motomic Software, Inc.
Motomic is a leader in cross-platform development for embedded applications. Motomic is partnering with Freescale, ARM, Qt and others to enable customers to accelerate development of embedded applications. Founded in 2009, Motomic is based in San Francisco/Silicon Valley, with a development laboratory in Japan. For more information, please visit http://www.motomicsoftware.com
Qt is a trademark of Nokia Corporation
Kinetis and Freescale MQX are trademarks of Freescale Semiconductor, Inc.
Motomic Adaptor is a trademark of Motomic Software, Inc.
For questions about this release please contact Motomic Software, Inc. at: +1 (925) 299-1231 or info(at)motomicsoftware(dot)com