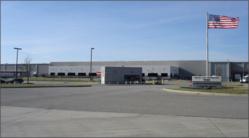 Montreal, QC (PRWEB) August 15, 2012
Today, Dalfen America Corp. (DAC) announced the acquisition of a "Class A" institutional quality cross-dock distribution center, located in Illinois.
Built in two phases in 2000 and 2001, and totaling over 1M square feet, the concrete tilt-up industrial property has 35' clear ceiling heights, 10K square feet of office and a total of 108 dock-high loading doors. The Marion facility was formerly occupied by Circuit City.
Sean Dalfen, DAC's Executive Managing Director, explains, "We are collaborating with the local government in order to do everything we can to attract a major tenant to the property." He continues by saying that "... in addition to the building's excellent functionality and construction, this is a great value-added proposition for employers who would use this facility due to Marion's excellent location, skilled workforce and lower labor rates as compared to competing markets."
"From a logistics standpoint, this building is extremely well located given the ability to access over 120M people within a twelve hour drive," suggests Robert Kurlender, Dalfen America Corp's Director of Acquisitions. He goes on to add "looking at a 300 mile radius, the lack of existing buildings in the 1M square foot range coupled with strong market demand for this type of space, makes me believe this particular project will undoubtedly be a success."
DAC has become one of North America's most active buyers of industrial real estate, having transacted on 37 buildings and 2 million square feet of prime development land, over the past 18 months. Through their current opportunistic industrial fund, DAC has acquired 30 institutional quality industrial buildings in 7 states and intends to more than double that number within the next 12 months.
About Dalfen America Corp.
Dalfen America Corp, the US arm of Dalfen's Ltd., a private equity real estate firm headquartered in Montreal, Canada, with regional offices in Orlando, Dallas and Tampa. Through its investment funds and separate accounts, DAC acquires and manages commercial properties and securities throughout North America.
For more information visit: http://www.dalfen.net
For Additional Information Contact:
Robert Kurlender
Director of Acquisitions
514-938-8454
rkurlender(at)dalfen(dot)net
Sean Dalfen
Executive Managing Director
514-938-1047
mghoul(at)dalfen(dot)net