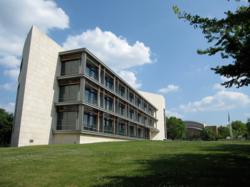 (PRWEB) August 17, 2012
Over the years, Roll-Off Dumpster Direct has provided dumpsters for a variety of east coast projects, from small clean-outs of local businesses to the construction of one of the larger solar panel projects in the United States. Recently, the company provided service to a type of client they had never had before: a foreign embassy. This week Roll-Off Dumpster Direct delivered a dumpster for a clean-out of the Embassy of the Federal Republic of Nigeria. Roll Off Dumpster Direct also coordinated the disposal of "E-Waste," such as computers and other electronics, for the Embassy. The clean-out will likely be no easy task, as the Nigerian Embassy is one of the three largest in Washington D.C., measuring about 100,000 square feet of floor space. Designed by a team of architects from Shalom Baranes Associates led by Robert Sponsellor and completed in 2002, the Embassy may also be one of the city's more interesting buildings, and certainly one of its most interesting embassies. The Embassy features a series of individual buildings all designed around a central courtyard and built under a common roof, part of a design modeled after a traditional Nigerian village. This unique design earned an excellence award from the American Institute of Architects in 2002, and was even featured on the cover of the Architecture DC magazine in winter of 2003.
While the Federal Republic of Nigeria may be small as measured by population relative to the United States, it is without a doubt a nation worth further exploration. Since the 1960's, roughly 1 million Nigerians have immigrated to the United States, and Nigerians make up the largest percentage of African immigrants in the country. Furthermore, Census Data also shows Nigerians to be perhaps the most educated group in America, with the greatest percentage of their population having graduated college or obtained an even higher degree. As a result of this large immigration and subsequent success, some Nigerian politicians have recently called on young, educated Nigerians to return to help in the continued rebuilding of their country following the transition to democracy in 1999. No surprise then that the embassy is looking to move forward, especially with technology as they continue to process more applications and other paperwork.
It is also worth noting that the Embassy clean-out serviced by Roll-Off Dumpster Direct is somewhat of a metaphor for the Republic of Nigeria as a whole. The past few years have seen the nation embark on a new economic campaign aimed at opening up the private sector and accelerating its growth. The country has also focused on diversifying from an economy based 95% on oil into other sectors such as agro-business, manufacturing, and tourism. The goal, as stated on the embassy's website, is to make Nigeria "the hub of economic activity in West Africa." While this may seem bold, Nigeria in fact has quite a good chance of achieving it. Last year, Ernst and Young identified Nigeria as one of its top 3 Rapid Growth Markets, with significantly above average growth predicted for years to come. Combined with its continued process of privatization, factors like this have caused a new surge in investment from the United States and countries around the world. Just last week, President Obama issued a statement outlining a new strategy for US-Africa relations including an increased focus on its relationship with Nigeria. Again, no surprise that the Embassy is ready to go out with the old and in with the new, dumpsters and all.
About Roll-Off Dumpster Direct
Roll-Off Dumpster Direct (RDD) is a Pennsylvania based Dumpster Rental Company that has automated the process of renting a dumpster on their website. You can get an instant quote on a dumpster, pay, and schedule delivery anywhere in PA, NJ, DE, MD, and VA including Washington DC.