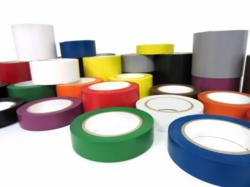 This is the best and fastest way to mark off areas.
Lake Oswego, OR (PRWEB) August 17, 2012
No more need to use paint to mark aisles and safety lanes at warehouse and manufacturing facilities. Creative Safety Supply now offers a new addition to their product line that is a top quality, long-lasting method for lining those pathways.
The vinyl tape comes in numerous selections of tape to create door swing areas, clean room zones, industrial rulers and, of course, safety areas. Options include a wide array of uses for the floor marking products. Industrial facilities will save time and money by using this simple method to create those pathways needed to run a smooth and safety work environment.
No more need to spend hours painting and waiting for it to dry. No more need to disrupt the workday. No more fumes or messy cleanup, which limits productivity. Floor marking tape is a simple, fast and inexpensive way to mark aisles as it will not easily chip, peel, or crack over time, especially in areas of heavy traffic.
The vinyl tape offered by Creative Safety Supply is comparable to 3M's 471 and 5700 tapes, which are widely used today in most industrial applications. The floor marking tape can also be used in schools to mark off safety areas, staging, court markings and other purposes that can be used in a sports gym, and is made out of durable 6 mil thick vinyl film with a rubber adhesive system that will adhere to almost any clean, dry surface. It comes in a variety of colors and will not only mark hazards or safety areas on floors and walls but can also be used on equipment for quick and safety identification. This product is made for both indoor and outdoor use, and will hold up better than any paint product. Creative Safety Supply's Mike Wilson adds, "This is the best and fastest way to mark off areas."
The next time you want to mark off floor areas for warehouse and manufacturing floors, forklift areas, safety boundaries, work area divisions or markings for gym areas, remember Creative Safety Supply. Visit http://www.creativesafetysupply.com/ for more information.