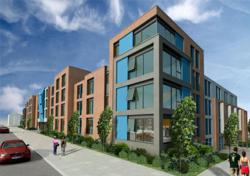 Void periods can be a huge burden on an investor's shoulders and their bank balances
(PRWEB UK) 17 August 2012
Colordarcy.com highlight research which has found that the average weekly student rent bill has risen from £67.11 in 2011 to £68.70 in 2012.
Commenting on the findings, Loxley McKenzie, Managing Director said, "Void periods can be a huge burden on an investor's shoulders and their bank balances. By adding student property to a portfolio investors can lower some of the risks associated with buy-to-let property."
Colordarcy.com point to research from Knight Frank who say they expect returns from student property to increase 12% this year with rental yields growing by 5% as further evidence of the investment potential of student property.
Last year alone UK investors put nearly £348 million into the student property market according to research from CB Richard Ellis and they are chasing average net yields of 7% or higher.
Analysts at Colordarcy.com say that landlords can make more from investing in property by letting on a per room basis to students rather than other types of tenant who will pay a set amount of rent for the whole property.
Landlords make an average income of 6.45%, compared to 5.94% to non-students according to Colordarcy.com.
This year even the banks are waking up to the potential of student housing and loosening their purse strings a little to investors.
The number of mortgages available for student lets has improved significantly and investors now have a choice of about 50 products from half a dozen lenders (Source: FT).
The imbalance between the supply and demand for student accommodation combined with high demand for university places makes student property one of the fastest growing area of property investment in the UK.
According to Savills Student property has outperformed many commercial property asset classes over the past five years. Meanwhile the number one destination for student property investors is London where yields continue to climb due to a structural shortage of accommodation.
Notes to the editor:
Colordarcy is a leading property investment company that specialises in finding positive cash flow investment properties worldwide. Colordarcy investment property portfolio includes some of the best properties for sale in Brazil, Florida, Turkey and the United Kingdom.
For more information, supporting pictures or logo artwork, please contact:
Brett Tudor
PR Manager
Tel: +44 (0) 207 100 2393
Email: press(at)colordarcy(dot)com
Web: http://www.colordarcy.com/