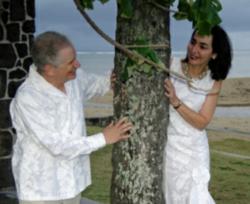 we'll pick you up at the dock and take you to your Hawaii beach wedding.
Mark Steffan
Honolulu, HI (PRWEB) August 16, 2012
Hawaii wedding planner Maui'd Forever is pleased to announce they are now offering Norwegian Cruise Lines Pride of America Hawaii cruises to their wedding and vow renewal clients. The NCL cruise takes couples to each of the major Hawaiian Islands, Oahu, Maui, Kauai and the Big Island of Hawaii.
With this announcement they are offering a special promotional deal. The promotion offers $100 on board credit for inside, ocean view, balcony and mini suites cabins and $200 for suites (per cabin). This is applicable to 2012-2013-2014 sailings. To qualify for this credit the cruise needs to be booked between August 15th and 19th.
A 7-Day Hawaii, round-trip Honolulu, on the Pride of America starts from $1249 per person, double occupancy with the cruise from Nov 24, 2012 - Dec 1, 2012. Other dates are available with these weekly cruises around the Hawaiian Islands.
In conjunction with this offer, Maui'd Forever will provide other substantial benefits to their wedding and vow renewal clients. They will pick the couple up at the dock and take them to a beautiful beach location and back for their ceremony.
This service is available for each port but needs to be arranged in advance. Maui'd Forever also does last minute wedding and vow renewals for cruise ship passengers that decide on a whim to marry or to celebrate their existing marriage with a vow renewal.
Just recently they were able to help a couple celebrate their 50th wedding anniversary in Hilo Hawaii on the Big island. Maui'd Forever president, Mark Steffan tells us that "Hilo is the most difficult area to make these arrangements as it is very remote and most of the vendors live on the Kona side of the Island a good 3-4 hours drive away."
Their wedding and vow renewal packages start at just $299 making a cruise to a Hawaiian wedding a very affordable experience.