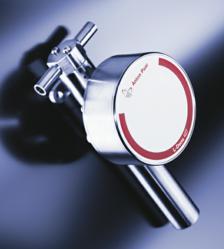 Ashland, Virginia (PRWEB) August 16, 2012
The L-Dens 427 density meter series from Anton Paar was accepted for registration in Alberta and is listed under Canadian Registration Number 0F02601.72. CRN registration is required in the Canadian market for pressurized applications. The L-Dens 427 was previously registered in other provinces as well, and the registration is valid for the entire family of L-Dens 427 density meters.
The L-Dens 427 density meter combines an accuracy of 1x10-4 g/cm3 with a compact design. The meters accurately measure density and temperature and are available in an explosion-proof version. They automatically calculate temperature-corrected density, API gravity, and a variety of concentrations based on density. The Class 1, Div. 1 explosion-proof rating makes it ideal for the oil and gas market. The Modbus, HART, 4-20 mA and frequency outputs make connection to any flow computer or PLC easy.
Typical applications include crude oil custody transfer, LACT units, separators, dilbit blending, and natural gas.
For more information on the L-Dens 427, please contact Anton Paar at 1-800-722-7556, or visit their website at http://www.anton-paar.com.