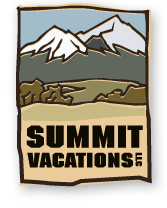 Breckenridge, Colorado (PRWEB) August 16, 2012
Summit Vacations is now offering 30% off any of their Breckenridge, Colorado ski resorts. Reservations for this special offer can be made beginning August, 2012. For the 1st time ever, starting this weekend, Breckenridge is hosting a rodeo every weekend throughout August, 2012.
Located in Breckenridge, Colorado, Summit Vacations is the perfect vacation rental company for the whole family. Founded in 1857, Breckenridge has numerous buildings with shops and restaurants. The lodging in Breckenridge is reminiscent of the Old West, and the atmosphere gives off a pleasant vibe for family vacations, romantic getaways, or taking a break from the hustle and bustle of the college lifestyle.
This preferred vacation destination has made vast improvements over the past few years, which now makes them a top competitor with many of the country's other ski resorts. The Breckinridge Ski Resort now contains the highest chairlift in North America, and it also boasts a gondola taking skiers directly from the parking lot. This gives skiers the pleasure of hopping onto the slopes, right from their car.
The Breckenridge area of Colorado offers endless sites to see, including the Lomax Mine, Firehouse Museum, Valley Brook Cemetery, Briggle House, and Colorado Mountain College. Visitors will feel right at home in the town of Breckenridge. The Summit Vacations website offers potential customers live support and chat to discuss pricing and availability of rooms.
Potential customers can visit summitvacations.net, to get the special discount code for their special August offer.