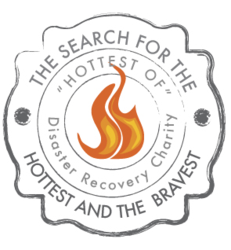 Harrisburg, PA (PRWEB) August 16, 2012
The "Hottest & Bravest" Firefighter Search Party
FRIDAY, SEPTEMBER 7, 2012, 7 PM - 10 PM
Harrisburg, PA- The date is official! The "Hottest Of" Disaster Recovery Charity will host its seventh annual "Hottest Of" Search Party on September 7, 2012 at the Best Western Premier in Harrisburg, PA. This event is open to everyone—a $15 donation to the charity will be requested of all non-firefighters and will include food and entertainment.
The "Hottest Of" Search Party will be filled with volunteer firefighters who are being photographed for the 2013 "Hottest Of" Calendar, which is sold throughout Central PA to fundraise for the fulfillment of the charity's mission. Corporate sponsors make this event possible and will be recognized for their support.
Jaime Novinger-Toigo, President of Service 1st Restoration & Remodeling—Harrisburg's Damage Restoration company—and founder of the charity, stated, "Due to our sponsor's support, we are excited and honored to have another event to celebrate the heroic work of our local firefighters. We encourage everyone to attend the event, meet local firefighters and thank them for their generosity."
The charity's mission is to recognize local firefighters for their commitment to keeping their communities safe while providing assistance to victims of disaster through grants of kindness.
The firefighters' pictures taken at the event will be posted at http://www.serve1st.com from September 11th-14th. All are invited to go on-line to vote for who should be selected for the 2013 "Hottest Of" Calendar.
There are a couple ways for firefighters to win a spot in the coveted 2013 "Hottest Of" Calendar. The five firefighters with the most online votes will be featured in the calendar. Five others will be nominated by their peers based on Longevity, Valor, Most Generations Serving, Leadership and Junior Firefighting. Another calendar month will go to a randomly selected fire company that participates in a Search Party Drop Box (tickets are sold at the event for $1.00 to have a station entered in the drawing). The last spot will go to a fire company nominated for most effectively promoting Fire Prevention Awareness in their community.
The chosen winners will be professionally photographed at different locations including local fire stations, The PA National Fire Museum and HACC's Public Safety training center.
The 2013 Calendars will be on sale for $15. To purchase a calendar, visit http://www.serve1st.com. 50% of every calendar sold will go to your fire company of choice while the other 50% will go to victims of property disasters.
For your convenience, pre-registration and sponsorship opportunities are available on our website at http://serve1st.com/event/searchparty.
For more information:
Contact Jaime Novinger-Toigo or Cece Serino
at 717-232-5444 or info(at)serve1st(dot)com
The "Hottest of" Disaster Recovery Charity
1441 Stoneridge Drive, Middletown, PA 17057
Headquartered in Middletown, Pennsylvania, Service 1st Restoration & Remodeling is Central PA's most respected and trusted independently-operated disaster recovery company. They have the capability of responding within an hour to any loss in the area. Known for Harrisburg remodeling, Harrisburg bathroom remodeling and Harrisburg water damage restoration, Service 1st makes the needs of Central Pennsylvanian's their top priority and ensures customer satisfaction during every step of every project.