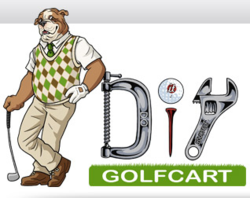 When people find out how they can customize their golf cart, they really enjoy the process of making the cart their own.
AUSTIN, Texas (PRWEB) August 16, 2012
DIY Golf Cart, an online supplier of thousands of different golf cart parts from a variety of golf cart makers, is celebrating its one-year anniversary.
Ever since opening its online doors at http://www.DIYgolfcart.com in August 2011, the golf cart part distributer has continued to grow.
With over 5,000 golf cart parts and accessories sold in its first year, weekly specials on parts, an informative blog on golf cart parts and the golf cart industry, and almost a combined 100,000 views on their DIY Golf Cart YouTube videos that include "how to install" tutorials on golf cart parts, president Aaron Gouldie is more than happy with the growth his new venture made in its first year.
"I'm very thrilled with our success and am looking for continuous years of the same type of progress," Gouldie said.
It only makes sense that DIY (do it yourself) Golf Cart makes installation tutorials on a wide-range golf cart parts it sells, and the company has delivered. The YouTube channel has over 150 subscribers and 36 videos, showing golf cart enthusiasts how to install parts and customize their golf cart or golf car, which are becoming more popular as gas prices continue to rise.
It's no secret the continuous rising of fossil fuels has directly led to the increased purchases of golf carts and street legal golf cars, sometimes referred to low-speed vehicles. These LSV's come with the quality one would expect when riding in a top-of-the-line golf cart, except these are street-legal and are made by the leading golf cart manufacturers E-Z-GO and Club Car.
"Golf cart companies are finding customers who are looking for an alternative mode of transportation around the neighborhood, the grocery story, lake houses and beaches," Gouldie said. "They're safe, they can maneuver in tight spaces and they work for you."
Besides looking for a better and more fuel efficient alternative for short distance driving and convenience, golf cart and golf car owners also look to customize their vehicles too. From radios and steering wheels to customizable grills and tires, the options to customize and upgrade are unlimited and DIY Golf Cart has the parts and accessories to help any golf cart owner.
"When people find out how they can customize their golf cart, they really enjoy the process of making the cart their own," Gouldie said.
DIY Golf Cart is looking forward to their second year in business and so is their ever impressionable mascot, Bobo, Gouldie's English bulldog, who greets customers throughout the website.
About DIY Golf Cart: DIY Golf Cart is an internet golf cart part distributer that's capable of distributing parts all over the world. Starting in 2011, DIY Golf Cart has been a staple in the golf cart distributing industry because of its easy-to-use website and impeccable customer service. With "how to install" YouTube videos and an informative blog, DIY Golf Cart is a one-stop shop for golf cart parts and golf cat information. Visit their site at http://www.diygolfcart.com .