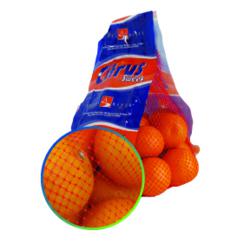 Minneapolis, MN (PRWEB) August 16, 2012
Conwed introduces new Vexar Carry Bag Mesh netting for the produce industry. This new flat joint tubular netting provides the optimal level of performance, protection and affordability for automated fresh produce packaging.
This cost-effective solution provides a drop-in replacement for other extruded and knitted netting with little or no equipment adjustment required and has consistent performance on Daumar®, Giro®, and other carry bag equipment.
The increased surface area improves adhesion strength when sealed to film and the flattened joint on the diamond pattern reduces abrasion, preventing damage to the produce's skin.
"We are excited to be able to offer the first and only carry bag mesh option made in the United States at a level 2 SQF manufacturing facility for produce packers. We are introducing great features that will provide optimal results," said Michelle Allshouse, Conwed's Marketing Manager.
Conwed offers one of the most extensive packaging portfolios in the world. From lightweight and knitted to totally customized products, we'll produce the solution for you.
About Conwed Plastics
Conwed is a global company, specializing in total netting solutions, from concept to commercialization. Headquartered in Minneapolis, Minnesota, Conwed manufactures a complete line of high-performance netting used in major markets ranging from consumer-packaged goods to building materials. Conwed markets products in the United States, Europe, Asia, and Latin America, and has five worldwide manufacturing plants.