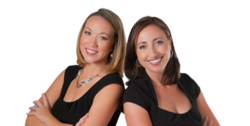 This is the first website of its kind...
Sarasota, FL (PRWEB) August 16, 2012
Rochelle Dudley of OnMessage Strategic Communications and Candice McElyea of 360 Degrees PR & Marketing have partnered on a new business venture: Politically Personal, Inc.
The new company has launched http://www.PoliticallyPersonal.com, which is one of four Webisodez built by the entrepreneurial minds at the HuB in Sarasota. Politically Personal features objective and non-partisan featured video interviews, articles and stories about local and national political personalities, candidates and politicians. In addition, it is a one-stop shop for all things political, including election dates and results, fundraising events, photos, news and more. "This is the first website of its kind," said Rochelle Dudley. "We wanted to create something that humanized political figures and appealed to everyone, regardless of their political affiliation."
After Tuesday's primary election, Politically Personal was the one place voters turned to for real time election results from across the region. Feature videos on PoliticallyPersonal.com are focused on the personal stories of the people being interviewed. The first video interview was with Ronna Romney, a Sarasota County resident who is related to Mitt and Ann Romney and is an active business woman and political fundraiser. Other stories include Donald Trump's upcoming visit to Sarasota, FL to kick off the Republican National Convention in Tampa,the highly controversial State Attorney's Office race in Florida's 12th Judicial Circuit and an upcoming interview with U.S. Congressman Vern Buchanan.
Rochelle Dudley is President of OnMessage Strategic Communications. Dudley moved to Manatee County several years ago from Tampa, where she was a small business owner, and was very involved in local politics. She worked as a field director for Congressman Buchanan during his campaign for re-election in 2008 and served as the campaign manager for Greg Steube during his successful campaign to the Florida House of Representatives in 2010. OnMessage Communications provides consulting services in the areas of political fundraising, public relations, social media, volunteer coordination, voter outreach, and grassroots initiatives to many candidates and organizations across Florida.
Candice McElyea, is President of 360 Degrees, Inc. McElyea is a graduate of Riverview High School in Sarasota and earned a Bachelor's Degree in Communications from the University of Florida in 1996. She started her professional career as a television news reporter, working on air in Gainesville FL, Salisbury MD and Sarasota FL, covering politics in several states. 360 Degrees handles full service public relations and press writing, social media strategy and implementation, and several other marketing services, and handles pr for several political campaigns. McElyea has consulted for one of the largest lobbyist groups in the country and is a blogger on several local news websites and a contributor to Yahoo! News. "As a journalist, I have always found the personal stories behind the people fascinating. It is our goal to tell those stories on PoliticallyPersonal.com. We want to cut through the rhetoric and connect the voters with the real people- regardless of party affiliation," said McElyea.
###
Politically Personal, Inc. was founded by Rochelle Dudley and Candice McElyea in May 2012 and is a non-partisan website/blog created by The HuB in Sarasota, focusing on political candidates, personalities and public officials. The website includes video interviews, photos, and news articles. For more information and to subscribe, please go to http://www.politicallypersonal.com