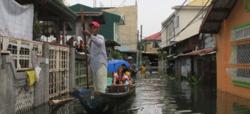 Lakewood Ranch/Sarasota, FL (PRWEB) August 16, 2012
The Philippines has been struck by another tropical storm, dumping more heavy rain on the flood-hit capital Manila and causing landslides in the mountainous north.
Tropical Storm Kai-Tak is the second typhoon in one week to hit the seventh most populated Asian country, bringing powerful winds and up to 1.4 inches of rain an hour over the northeast of the main island of Luzon.
"We have been experiencing really heavy rains since last night, and our rescuers have evacuated some residents after neck-deep flooding was reported," Melchito Castro, the civil defense chief in the northern Ilocos region, told news agency Agence France-Press on Wednesday.
Hundreds of thousands of civilians have been trying to recover from the destructive monsoon weather that has been slamming the nation over the past few weeks, causing widespread devastation to buildings, homes and crops.
Three ShelterBox Response Teams (SRTs) have been assessing the need for emergency shelter and other non-food items in the urban and rural devastated areas.
San Fernando in Pampanga Province is the worst hit area to the north of Manila, according to Philippines-based SRT member Abner Tayco who has been part of the team assessing the need in rural regions with New Zealand-based Ross MacKenzie.
"Many families in San Fernando have been forced from their homes as many surrounding villages are underwater" said Tayco. "There is also a lot of silt that will leave the villages submerged for longer unless it is rapidly unclogged."
Australia-based SRT member Peter Pearce and Philippines-based Sonny Ongkiko have been assessing the need in Manila and areas to the south of the capital, where nearly 20 inches of water dumped in two days, the same amount that would normally fall in six storms. They have found a need in the provinces of Laguna, Rizal and Marikina that surround Laguna Lake.
"The majority of schools and gyms around this region have become over-crowded evacuation centers and some schools are under four feet of water," said Pearce. "The lake has grown by 50-65 feet and the floodway control cannot accommodate the volume of water or debris that will damage more villages."
Media reports say that it could take months to drain the overflowing lakes and rivers, which will in turn leave families homeless for months.
The country's Navy is on standby with its trucks ready to transport ShelterBoxes to the devastated areas from those prepositioned in the city of Clark. Local Rotarians have also offered their warehouses to store boxes while they are distributed to families in need.
"Our country averages 20 typhoons annually. We are only in August and the fifth typhoon has already brought unusually high levels of rain this early on," said Ongkiko. "We are doing our best to speed up the assessment and deliver emergency aid to those who have lost everything."
Another SRT has arrived in the Southeast Asian country to assess the need in the north, following Tropical Storm Kai-Tak.
ABOUT SHELTERBOX USA
Since 2000, ShelterBox has provided shelter, warmth and dignity following more than 180 disasters in over 80 countries. ShelterBox instantly responds to earthquake, volcano, flood, hurricane, cyclone, tsunami or conflict by delivering boxes of aid. Each iconic green ShelterBox contains a disaster relief tent for an extended family, stove, blankets and water filtration system, among other tools for survival. ShelterBox's American affiliate, ShelterBox USA is nationally headquartered in Sarasota, Florida. Individual tax-deductible donations to ShelterBox USA can be made at http://www.shelterboxusa.org, (941) 907-6036 or via text message by sending SHELTER to 20222 for a one-time $10 donation. Location and time specific donations cannot be accepted.
# # #