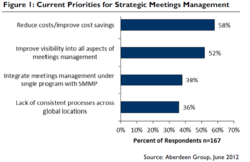 Strategic Meetings Management is continuing to improve the efficiencies of organizations
Atlanta, GA (PRWEB) August 16, 2012
The Aberdeen Group's Analyst Insight, "Building a Business Case for Strategic Meetings Management Technology," is now available for free download from SignUp4, the innovative meetings intelligence provider. Between May and June 2012 Aberdeen conducted their SMM-focused benchmark survey, examining the use, experiences, and intentions of more than 167 enterprises. Reducing costs, improving visibility and integrating meetings management under a single program are the key priorities of survey participants.
Nearly 70 percent of organizations view strategic meetings management as a moderate-to-high priority function, proving that an enterprise's events have a direct link in achieving corporate business goals and objectives. Also on the radar of organizations this year in regards to meetings management is the improvement of visibility into all facets of events management (52 percent). As a significant portion of organizations' finances are allocated toward meetings and events including travel, it is now imperative to implement a universal system for managing all aspects of event management.
"Strategic Meetings Management is continuing to improve the efficiencies of organizations that have implemented the processes and technology," says Matt Hodge, VP of Sales. "Our clients that have adopted our end-to-end product suite have seen significant improvements in the areas of compliance and savings in return greatly impacting ROI."
Of the Best-In-Class performers, Aberdeen found that these enterprises have:

A 48% higher rate of compliance to internal meetings/events management policies and guidelines than all other organizations.
A 44% higher rate of meetings and events spend under management
A nearly 30% higher frequency of meetings and events executed on or below corporate budgets.
With the spend category of meetings and events management expected to increase by 20 percent over the next two years, leveraging meetings technology to control spend and visibility is rapidly becoming a best practice. The Best-In-Class performers are leading the way in the event space with 60 percent higher rates of realized and implemented cost savings over organizations not utilizing end-to-end technology.
The Aberdeen Group's Analyst Insight, "Building a Business Case for Strategic Meetings Management Technology," is now available for complimentary download. Aberdeen's Insights provide the analyst perspective of the research as drawn from an aggregated view of the research surveys, interviews and data analysis.
About SignUp4
SignUp4 is the innovative meetings intelligence provider offering the highest quality event management and strategic meetings management solutions with an affordable unlimited usage model. Founded in 1999 and backed by an experienced team of technology and event management experts, we are driven by a single objective- to design, develop, deliver, and support the most reliable, cost-effective event management tools. To ensure we meet the needs of our clients and the demands of the evolving meetings industry, we develop new features and functionality every 5 weeks, on average producing over 1,000 updates annually. The goal of SignUp4's meetings intelligence is to streamline workflows, simplify and drive registrations, efficiently manage travel logistics, improve communications, and provide visibility into meeting spend for leveraging contract negotiations and increasing ROI. With over a decade of experience, 3,200 users and over 80 of the Fortune 500, we understand the value of your time and events.