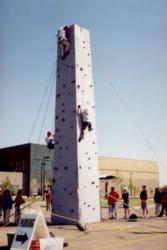 Reed City, MI (PRWEB) August 16, 2012
Eagle Village will hold a Car Wash Fundraiser on Saturday, August 18 from 10:00am to 3:00pm at Babb Ford in Reed City. This event, which is part of the Crossroads Festival, is put on by employee volunteers of Eagle Village.
During the event, the community can visit Babb Ford to get their car washed, bring the family to climb on the notorious MAX climbing wall and also discover what goodies the residents of Eagle Village have available in their bake sale.
"We're very thankful to Babb Ford for hosting our event at their dealership. It's exciting to have so many employees of Eagle Village volunteering their time in the community to hold a fundraising event on a Saturday. " said Lisa Spaugh, Marketing Specialist for Eagle Village.
For more information on this event, contact Shelley Mitchell at (231) 832-7315. For more information about Eagle Village visit http://www.eaglevillage.org