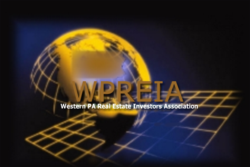 "You will never get a better deal, than a free education" Josh Caldwell
Pittsburgh, PA (PRWEB) August 17, 2012
As of August 16th, 2012 the newsletter produced by the Western PA Real Estate Investor's Association will be free to anyone who wants it. This publication is full of the jealously guarded secrets that have made club members financially free.
The Western PA Real Estate Investor's Association is the fastest growing real estate investing club in Pennsylvania. The club is just a group of like-minded individuals who have used their knowledge or real estate to give them financial freedom. In the end, financial freedom is the goal of every investment.
Real estate offers some unique advantages over other types of investments. Real estate is always needed. No matter how bad the economy gets, people will always need a place to live. Real estate always has value. The sale price of a property might drop in bad times, but it still exists and has value. What value does a stock have after the company collapses? Real estate offers tax advantages, does gold offer tax advantages? Visit PittsburghREIA.com, and learn a lot more about the advantages of real estate.
The mainstream news media is constantly reporting about the chaos in the economy. As real estate investors, the members of the real estate investing club have learned to love this chaos, and want you to participate in this once in a lifetime market. People are loosing money all over America, but that money is not lost, it did not evaporate, it just went to someone else. Learn how the members of the WPREIA are doing it in order to be the person who gains from the current financial chaos.
Many members of WPREIA were struggling land lords. Then they found thier way to the real estate investment club, and the newsletter. For those who are broke and tired of living paycheck to paycheck, the goal is to stop listening to people who are failures and start learning how real people are making money today.
The newsletter comes via email and is made up of tips and tricks from other successful investors. Wouldn't it be great to learn the techniques that are working in this market? Learn how investors just like you are finding deals, and how they are turning those deals into cash.
The Pittsburgh based Real Estate Investors Club has produced this same newsletter for more than two decades. Included in the newsletter are articles from some of the greatest real estate educators alive today. People like Ron Legrand, Robyn Thompson, Jay Conner, and many more.
To claim a free newsletter subscription, simply go to PittsburghREIA.com and sign in. It is that simple and there is no further obligation. There is nothing to buy. The members of the Pittsburgh based investment club want to reach out and help other investors.
To get your free newsletter, go to PittsburghREIA.com and sign up.