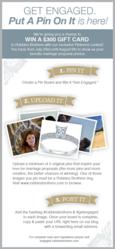 A proposal leads to marriage and marriage is more than just a wedding; it's a lifetime of loving and living with your best friend. I cannot wait to say 'YES!'
Los Angeles, TX (PRWEB) August 16, 2012
Robbins Brothers, The Engagement Ring Store recently hosted an exclusive Pinterest contest, "Get Engaged: Put A Pin On It," to support its television campaign which highlights the various ways women respond to "Will You Marry Me?" The destination engagement retailer chose the official winner today! Rachel Tarvin, age 26, from Conroe, TX has won a $300 gift certificate to Robbins Brothers. Contestants were asked to pin photos that inspire their love for marriage proposals, including rings from http://www.RobbinsBrothers.com. The company's internal panel of judges randomly selected the winner.
Rachel Tarvin's "Get Engaged" Pinterest board, which has 138 followers, includes 64 pins ranging from bottles of fine wine with a "Will You Marry Me" label, to personalized engagement photo frames, to gorgeous bridal gowns from top designer Lazaro. Though Tarvin is currently in a two-year relationship with Tim Herbert, she also pinned a humorous ecard that says, "It's pathetic how nice my wedding is on Pinterest considering I don't even have a boyfriend." Tarvin enjoyed participating in the contest and stated, "I had so much fun and found some great ideas, very pretty rings and sweet stories while doing this."
Tarvin has been exposed to solid relationships in life which have influenced her positive outlook on love. "My grandparents on both sides of my family, as well as my parents are just as in love today as they were when they first met," she said. "I have made it a goal, in my life, to find that same type of undying love! A proposal leads to marriage and marriage is more than just a wedding; it's a lifetime of loving and living with your best friend. I cannot wait to say 'YES!' "
"Get Engaged: Put A Pin On It" serves as Robbins Brothers' first Pinterest contest and the company looks to host similar ones in the future. "We received some amazing entries in this contest," said Diane Ferraro, director of brand experience and marketing for Robbins Brothers. "Each board contained a unique, personal interpretation of engagements and marriage proposals. We are pleased with the effort and creativity that went into creating the boards. Most importantly, our fans had a wonderful time in the process."