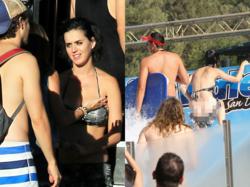 ...Katy Perry lived up to its fun image when she laughed out her "behind's" accidental exposure in the water park.
Los Angeles, CA (PRWEB) August 15, 2012
It was a case of a water slide and a bikini bottom on the loose. Katy Perry was snapped during the weekend with more of her exposed than she planned to show. And in terms of the way she addressed the incident, GreenBeanBuddy.com, an entertainment and sports new site, said she did well.
Based on a report from dailymail.co.uk, the pop star, whose 3D biopic-concert film just recently premiered, was on a break in Raging Waters water park in San Dimas during the weekend. And despite her being lately often seen with rumored boyfriend John Mayer, the article said that the singer was by herself except for some few friends.
During her water park break, the report stated that Perry went for the water slide sporting a two-piece. It detailed that on one of her rides, she fell off her boogie board. And that triggered the "butt out" incident as she emerged from the water with the bottom of her bikini off. But instead of criticizing the paparazzi for photographing her in such an awkward moment, Perry instead laughed out the incident.
Here's an excerpt from "Katy Perry Showed a Little Too Much" by GreenBeanBuddy.com
"After the success of her Teenage Dream album and the premiere of her "Part of Me" 3-D film, Katy Perry sure deserves a break. And though lately she was often seen hanging out with her new rumored boyfriend John Mayer, during the weekend, she was spotted enjoying in one water park in California without him. But that isn't the center of this post – her bottom is.
During her fun trip to the Raging Waters in San Dimas, the 27-year-old pop-star donned a dark bikini and got on the water slide. However, after she tumbled from her boogie board, she emerged from the water with her bottom off. One of her friends then approached to help, but it was already too late to cover what was already exposed."
Writing about the incident, entertainment and sports news website GreenBeanBuddy.com said that Katy Perry lived up to her fun image when she laughed out her "behind's" accidental exposure in the water park. Additionally, it commented that the music artist did well addressing the situation as she looked at the positive side of it instead of lashing out to the person who took her picture.
Get More of the Latest News in Entertainment and Sports at GreenBeanBuddy.com