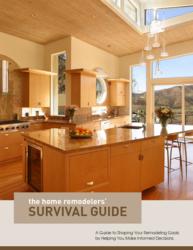 People don't plan to fail, but they often fail to plan
Pasadena, CA (PRWEB) August 15, 2012
HartmanBaldwin is releasing the third edition of its popular Home Remodeler's Survival Guide. First published in 2003, the new publication takes a more strategic approach to shaping the readers' remodeling goals by helping them make informed decisions before hiring an architect and contractor. This guidebook answers difficult remodeling questions, provides tools to help shape your goals and manage the process, and shows effective ways to recruit, select, and communicate with a design/build team.
From this guidebook a lecture series was born that ultimately resulted in the creation of the Home Remodelers' Survival Guide Workshop. Now in its 9th year, this interactive workshop helps homeowners identify and get passed the fears that have held them back from realizing their remodeling goals. Fun and enlightening exercises help attendees (especially couples) prioritize a "wants-and-needs list" and also learn how to balance their scope with the budget to avoid over investing for their neighborhood.
Workshop leader, Bill Judson is an Architect at HartmanBaldwin Design/Build and heads HartmanBaldwin's consulting team. He and his team of design/build consultants are grounded with the practical know-how necessary to provide innovative solutions to the toughest remodeling dilemmas.
"People don't plan to fail, but they often fail to plan. This is especially true where home remodeling is concerned," explains Bill Judson. "Since remodeling is a complex process with many details to be planned, coordinated, and anticipated, even before the first nail is driven, homeowners are faced with several important decisions: Will the design project meet my family's needs? How can I hold everyone to my budget? What compromises will I have to make? How do I protect myself and my investment? This one of a kind guidebook and workshop offers the chance to address these issues and help attendees obtain a clearer vision of how they can successfully manage a remodel of their own home."
To receive a FREE copy of The Home Remodelers' Survival Guide call 626.486.0510. To register for an upcoming workshop online visit http://hartmanbaldwin.com/sgw-registration.asp Seating is limited; workshop fills up fast. People are encouraged to rsvp early. Light food and refreshments will also be served.
About HartmanBaldwin - HartmanBaldwin Design/Build, Inc. has been remodeling and restoring homes in Southern California for nearly 30 years. It has won numerous local and national awards for design and building, including the Gold Nugget Grand Award, sponsored by the Pacific Coast Builders Conference and Builder Magazine; several Renaissance Design Competition Grand Awards, sponsored by the NAHB Remodelers Council and Remodeling Magazine; and numerous Architectural Commission Excellence in Design and Construction Awards.