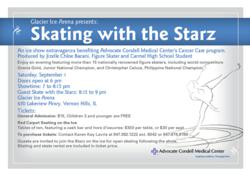 Libertyville, IL (PRWEB) August 17, 2012
Saturday, September 1, the Glacier Ice Arena in Vernon Hills will host "Skating with the Starz" with proceeds from the event to benefit the Advocate Condell Cancer Care program. The event will feature more than 15 nationally renowned figure skaters, including Junior National Champion Gracie Gold, and Philippine National Champion Christopher Caluza.
The program was the invention of local figure skater and Carmel High School student Jizelle Chloe Bacani.
"I put this program together because there are a lot of people in my life that have been affected by breast cancer," said Bacani. "I wanted to give back, and show all of the people affected by cancer that we care."
When Bacani was considering what to do with the proceeds of the event, she knew. "My mom has been working at Advocate Condell for 12 years. Condell has always been part of our family's life."
The Glacier Ice Arena, where Bacani trains, was eager to participate. "We are proud to host this event for such a good cause. We encourage anyone in the community to come, stand up with us and Condell against cancer," said Karen Kay Lavris, Marketing Director at Glacier Ice Arena.
The event will also offer the opportunity for the audience to skate with the "stars" following the formal program. General admission tickets are available for $15, and children age 3 and younger are free. Premium seating is available on the ice, with cash bar and hors d'oeuvres, for tables of ten--$300 per table or $30 per seat. Skating time with the stars and skate rental are included in all ticket prices.
For more information, or to purchase tickets, contact Karen Kay Lavris at 847.362.1222, ext. 6042.