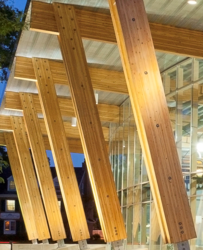 Now architects and engineers will be able to specify possibly the most ecologically friendly material...
Springfield, Illinois (PRWEB) August 16, 2012
Lamboo, Inc. has announced the official release of a LVB (Laminated Veneer Bamboo) specification as a fiber material that can be used in the manufacture of products covered within ASTM international standards. ASTM International, is a globally recognized leader in the development and delivery of international voluntary consensus standards.
Bamboo has always been known for its remarkable attributes to grow and replenish much more rapidly (6-8 years) than traditional forms of timber but this certification can be used to showcase bamboo's superior strength and performance properties. This certification is a major step forward and showcases how ASTM is continually raising the bar in the transition from finite building materials such as aluminum to rapidly renewable resources in the construction and architectural industries.
Known for their high technical quality and market relevance, ASTM standards are used in research and development, product testing and quality systems. From roof to foundation, wall to walkway, ASTM building construction standards are integral to the durability and quality of the structures in which we live, work and play. ASTM standards address concrete, steel, wood, piping, coatings and more. Today, over 12,500 ASTM standards are used around the world to improve product quality, enhance safety, facilitate market access and trade, and build consumer confidence.
President of Lamboo, Inc. Luke D. Schuette, and Bruce Craig, Lamboo Product Development Director and 22 year ASTM member, have drafted and revised standards to be set forth for the future use of Bamboo as a structural application. Craig has over 32 years of experience in the field of engineered wood product research and development, and specializes in product certifications, product development, and quality assurance for engineered wood products. Through his efforts and that of Schuette this inclusion marks the first bio-based structural material addition in around 30 years.
"It has taken over three years of effort and multiple ballots to develop the necessary revisions to D5456 that permit the evaluation of a bamboo species used in SCL manufacture. These revisions will permit an LVB product to be used as structural alternative to other structural wood products," said Bruce Craig, Lamboo Product Development Director.
ASTM has received recognition of a laminated veneer bamboo (LVB) type of product. Laminated Veneer Bamboo is composite of bamboo strand elements, edge bonded to form veneer sheets which are then face-bonded to form finished products with bamboo fibers, primarily oriented along the longitudinal axis of the member where the least dimension of strand elements are 0.25 in. (6.4 mm) or less and their average strand lengths are a minimum of 300 times the least dimension of the bamboo strand elements. (ASTM, D5456, 3.2.2.2).
"Sustainability is becoming more and more of a focus in commercial construction. Now architects and engineers will be able to specify possibly the most ecologically friendly material to ever be integrated into the most respected international standard," said Luke Schuette, Architect, and President of Lamboo, Inc.
Lamboo, Inc. specializes in the manufacturing of engineered bamboo for structural, architectural and industrial applications worldwide. Bamboo as a lingo-cellulosic fiber can be processed into products with enormous advantages in mechanical properties. In its engineered form, laminated bamboo provides great durability, uniformity and strength.
Lamboo recognizes the growing demand for superior products that deliver outstanding performance, while respecting our planet and our neighbors. Lamboo products are not only a superior option of traditional sources in terms of quality and performance, but are a highly sustainable option as well.
Anyone with an interest in the development of newly engineered structural component products is invited to join D07.02. To learn more about the environmental impact bamboo can have please contact Debby Richardson at 866.966.2999 or email at debby(at)lamboo(dot)us