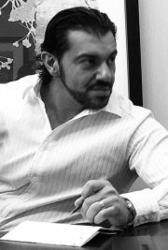 "These Internet ads and sites that claim a quick fix to weight loss are a scam and a ripoff," says Bedros Keuilian.
Chino Hills, CA (PRWEB) August 15, 2012
Being a successful motivational coach is not an easy profession. Just ask Zig Ziglar, Mark Victor Hansen, Tony Robbins, or others who have pursued and become successes in such a challenging profession. For every accolade and impact they make on people's lives, they are also sometimes been falsely accused as being a scam because the work they do is not always tangible.
Bedros Keuilian has spent the last 15 years building his reputation as a dynamic motivator and fitness marketing innovator in the fitness and health industry. His success has allowed him to build and grow a following that has resulted in his successful mentoring, coaching, and supporting of personal trainer businesses to increase their clients served and income. Bedros recently brought on board his 8,000th client.
His success has been further validated as his annual 3-Day Fitness Business Summit continues to sell-out while drawing fitness professionals from all over the world to come and hear how they can continue to over-deliver for their clients and help them achieve their fitness and weight loss goals.
With success comes responsibility to identify and highlight troubling topics. Recently, one of the most challenging issues that Bedros Keuilian sees is the false claims and scams on the Internet to help consumers quickly lose weight.
"These Internet ads and sites that claim a quick fix to weight loss are a scam and a ripoff," says Bedros Keuilian. "For over a decade, I've worked hard to service the fitness industry and consumers should know that weight loss doesn't come in the form of pills, lotions, and powders. It comes from hard work coupled with the right motivation and accountability, and a logical nutrition plan."
"Having attended Fitness Business Summit and seen the passion that Bedros has for growing and empowering the fitness community first hand, I can tell you that he is the man to turn to if your goal is to grow your personal training business. I and hundreds of others like me have seen huge benefits by following Bedros' guidance," says John Romanello, a client of Bedros Keuilian.
To find out more about Bedros Keuilian and his company PTPower, please visit his website at http://ptpower.com/about-bedros-keuilian/ or contact Bedros Keuilian at (800) 261-0208, via email at support(at)keuilian(dot)com.