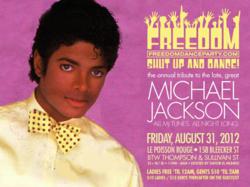 New York, NY (PRWEB) August 16, 2012
On Friday August 31st, The Freedom Party will turn their award-winning weekly hip-hop-classics party into their annual Michael Jackson Tribute. Resident DJs Herbert Holler, Cosi, and Marc Smooth will be joined by guest host Kevin Powell for a night of Michael Jackson sing-alongs, dance-offs, video mash-ups, and a special dance party in The Gallery at LPR featuring live congas by House of Rhumba's legendary Paposwing.
Now in it's third year, The Freedom Party's Michael Jackson Tribute night proves why they won Paper Magazine's People Choice for Best Party in NYC. It's a packed room full of dancers, b-boys, costumed Jackson 5 look-alikes, and general Jackson lovers. This is NYC best Jackson tribute every year.
About The Freedom Party:
The Freedom Party NYC is New York City's longest running weekly Friday night dance party. Recently the winner of Paper Magazine's highly coveted award for "Best Party of 2012 (People's Choice)," and runner up in URB Magazine's "Best Party of 2012" (a nationwide award). Freedom was created in 2002 by Herbert Holler, DJ Cosi, and Marc Smooth. Their mission was to bring music back to the forefront of nightlife, and to provide a weekly home for people from all walks of life to dance and be free at, regardless of who you know, what you wear, or how much money you make. Playing an incredibly tight mix of danceable hits from the 60s through today, including hip-hop, R&B, rock, reggae, soul, new wave, house music, salsa, merengue, electro, afrobeat, and more, The Freedom Party continues to fill the dance floor each week with people from all over the globe.