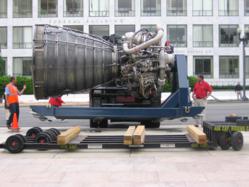 Washington DC (PRWEB) August 16, 2012
The Smithsonian's National Air and Space Museum (NASM) is creating a major new exhibition gallery called "Moving Beyond Earth" which is about the history of human spaceflight since Apollo. The gallery covers the Space Shuttle program and the International Space Station as well as showing the efforts for future human space exploration.
The Museum possessed a real, flown Space Shuttle Main Engine (SSME) at its Udvar-Hazy Center (UHC) in Chantilly, Virginia and wished to display the artifact at the National Mall Building's (NMB) "Moving Beyond Earth" exhibit in downtown Washington DC.
A&A Transfer was awarded this project over other Washington DC Commercial Moving Companies after presenting their designed and tested "multi-axle tug" to Smithsonian Engineers proving they could meet the proper requirement to move the Space Shuttle Main Engine (SSME) and its mount that weighed 14,125 lbs. and measured 17'-5" long by 8'-6" wide by 11' high.
At the National Mall Building, the Washington DC Commercial Moving Company brought the engine into the building through the first floor west end and moved to the gallery at the east end, utilizing the floor load considerations detailed in a recently commissioned structural load analysis. At the west end doors, the threshold is 2" (inches) high by 30" (inches) deep and was taken into consideration for traversing either with wedges or ramps. The Contractor will move the SSME through the museum (3 city blocks, approximately 1000 feet) to the Moving Beyond Earth Gallery (113) at the first floor east end. Any equipment used inside the building was equipped with non-marking tires and was electric powered. All equipment should be clean before coming into building.
About A&A Transfer:
A&A Transfer, Inc. was founded in 1965 by Robert and Patricia Lavin. Recognizing the need for quality moving, the Lavin family established A&A Transfer, Inc. as a dependable, professional and experienced full service solutions provider. Dedicated to safety, quality, and long-term partnerships, A&A Transfer, Inc. has become a leader in the Washington DC commercial moving and rigging industry.