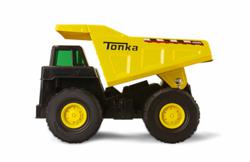 Van Nuys, CA (PRWEB) August 16, 2012
Funrise, a licensee of Hasbro, Inc., is thrilled to be getting back to the roots of TONKA vehicles by manufacturing and re-releasing 12 styles of the Classic TONKA Steel line of vehicles to all major retailers. The TONKA Steel line will include the timeless styles of the T.S. 4000 Dump Truck, Classics Mighty Front Loader, Classics Mighty Bulldozer and many more, and each vehicle will come with a Lifetime Replacement Guarantee.
"TONKA Steel has an amazing heritage that spans generations from a small child to a granddad," said Arnie Rubin, CEO of Funrise. "TONKA has withstood the test of time, and has remained a staple of every little boy's toy box and is an integral part of boyhood, and a lifestyle that develops boys into little men."
"We are tremendously proud that the 65-year heritage of being "TONKA tough" continues to translate into a rite of passage for hardworking little boys around the world," said Lynda Connell, Director, Hard Goods, Licensing, Hasbro, Inc. "We are very pleased with Funrise's line of TONKA Steel vehicles – they truly deliver on the "built-to-last" experience that TONKA brand as always been known for."
To help promote the re-release of TONKA Steel, Funrise is hosting a 6-month "Show Us Your Steel" photo contest on the TONKA Facebook page http://www.facebook.com/TONKA Offering monthly prizes of one-of-a-kind specially designed TONKA Steel Dump Trucks.
TONKA vehicles include realistic, wholesome, versatile, quality vehicle play for kids' ages 18 months & up and have been a trusted brand, delighting parents and children, since 1947.
About Funrise
Founded in 1987, Funrise is an adventurous innovator of superior toys and an industry leader in the manufacturing and distribution of the most popular children's toys. Simply put…we create fun! Funrise's core property portfolio includes Gazillion® Bubbles, HEADBANGERS®, Home Arcade®, Tub Town®, Lil' Cupcake®, Sassy Stables®, Shelcore's Shake 'N Bobbles®, Sunny Steps and Play & Imagine® with leading licensed power brands such as TONKA®, National Geographic©, MY LITTLE PONY®, BABY ALIVE®, What A Doll® and more, making our product offerings diverse and full of fun for kids of all ages! Funrise Toy Corporation is a wholly-owned subsidiary of Matrix Holdings Limited. Funrise U.S. headquarters are located in Van Nuys, CA, with offices in Hong Kong, United Kingdom, and France with additional showrooms in Dallas, Minneapolis, Bentonville and Miami. Funrise is operated by Arnie Rubin, vice chairman of Matrix and CEO of Funrise. Mr. Rubin also served as President of the International Council of Toy Industries and is the former Chairman of both the Toy Industry Foundation (T.I.F.) and the Toy Industry Association (T.I.A.). Funrise's success results from its commitment to quality manufacturing, progressive marketing and a values-based corporate culture. For more information, visit http://www.funrise.com
About Hasbro
Hasbro, Inc. (NASDAQ: HAS) is a branded play company providing children and families around the world with a wide-range of immersive entertainment offerings based on the Company's world class brand portfolio. From toys and games, to television programming, motion pictures, digital gaming and a comprehensive licensing program, Hasbro strives to delight its global customers with well-known and beloved brands such as TRANSFORMERS, LITTLEST PET SHOP, NERF, PLAYSKOOL, MY LITTLE PONY, G.I. JOE, MAGIC: THE GATHERING and MONOPOLY. The Company's Hasbro Studios develops and produces television programming for markets around the world. The Hub TV Network is part of a multi-platform joint venture between Hasbro and Discovery Communications (NASDAQ: DISCA, DISCB, DISCK), in the U.S. Through the company's deep commitment to corporate social responsibility, including philanthropy, Hasbro is helping to build a safe and sustainable world for future generations and to positively impact the lives of millions of children and families every year. It has been recognized for its efforts by being named one of the "World's Most Ethical Companies" and is ranked as one of Corporate Responsibility Magazine's "100 Best Corporate Citizens."Learn more at http://www.hasbro.com.