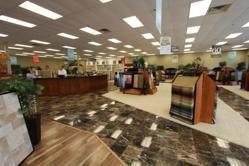 Our ability to do high-quality tile work is also a source of pride for us
Birmingham, AL (PRWEB) August 17, 2012
Abbey Carpet & Floor has opened an 11,000 square-foot flooring store in Birmingham that will serve Jefferson county and the surrounding area.
"We saw the need for a quality flooring store on the north end of Jefferson county," stated owner Ted Gregerson. "We have been looking to expand our operation, and the Roebuck area looked like a very suitable location for us to do so."
The Roebuck Marketplace shopping center was chosen as the location because of its close proximity to I-59, enabling easy access from anywhere in Birmingham and the surrounding area.
This new store offers a very large selection of flooring, and has a variety of flooring types installed on the showroom floor to help customers visualize what the different styles can look like when installed.
"Another asset that we are proud to have in this store are the people running it," says Mr. Gregerson. "They are very experienced and quite knowledgeable about the flooring industry. We believe in keeping our people updated about changes in the business, so training is an ongoing process." He said that, "No matter how long you have been in the business, you have to continue to train and learn in order to provide the best service for your customers."
"Our ability to do high-quality tile work is also a source of pride for us," he noted. "We can do custom tile showers, bathroom floors and walls, kitchen backsplashes, and even custom granite countertops. You are limited only by your imagination." He added that the staff in the store will be happy to help you design your project.
The new Birmingham flooring store opened at the beginning of August, but the grand-opening will be Monday, August 27, at 9 a.m. Birmingham Mayor William A. Bell, Sr. is expected to attend the ribbon cutting ceremony. Also attending will be the regional property manager from American Commercial Realty Corporation's Florida office, Abbey management personnell, and representatives from various flooring mills.
There will be cake and refreshments served to all who attend. "We will start off the Grand Opening by offering free installation on all flooring, with the exception of tile. We're also offering 15 months of financing at 0% interest," according to Mr. Gregerson. "We hope a lot of people will come by our Grand Opening to say 'hello' and take a look at our new store."
Business hours are 8:30 a.m. to 5 p.m. Monday through Friday, and 8:30 a.m. to 4 p.m. on Saturday. The store address is 9146 Parkway East, Birmingham, AL 35206.