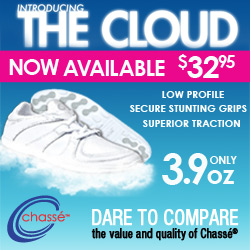 The Cloud was inspired by the everyday cheerleader and designed to be light on your feet and on your budget.
San Diego, Calif. (PRWEB) August 16, 2012
Chassé, an innovator in the cheerleading shoe and apparel industry, added the Cloud, its lightest cheer shoe ever, to its Spring 2012 cheer apparel line. Originally released as a pre-order option, the Cloud is currently in stock and available for shipping across the United States.
The Cloud weighs only 3.9 oz., making it a great option for cheerleaders looking for a lightweight, indoor performance cheer shoe. The Cloud takes a stance about making the most innovative cheerleading footwear available for everyone by offering it at a price that all teams can afford. While most comparable performance shoes sell for $85.00, Chassé's exclusive retailers, Campus Teamwear and Omni Cheer, offer the Cloud for $32.95.
Chassé's Nicole Dunayevich reveals that the Cloud "was inspired by the everyday cheerleader," and added that "Chassé designed the Cloud to be light on your feet – and on your budget. We are proud to add the Cloud to our extensive line of quality cheerleading products that we have been delivering at substantial savings for years."
The Cloud uses the latest footwear technology to develop a low profile competition shoe that provides a form fitting, comfortable and supportive performance experience. Crafted for use indoors, the Cloud was engineered for the safety of all cheerleaders with a full contact EVA outsole that features secure stunting grips and superior traction.
The Cloud comes with its own eco bag that eliminates shipping waste while using less cardboard and tissue paper, and features 100% reusable, recyclable material. The reusable eco bag can be used to carry cheerleading accessories on the go.
Connect with Chassé on their [official Facebook page and Twitter account to get the latest product releases and cheerleading updates.
About Chassé
Cheerleading fashion leader Chassé believes that cheerleading is not just a sport – it's a lifestyle. Chassé is a leader and innovator in the world of cheerleading apparel and accessories, providing affordable and high-performance products and specialty styles to cheerleaders of all ages. Chassé products can be purchased exclusively through Omni Cheer or Campus Teamwear. If you have any questions, please contact us at 1-800-871-0063.