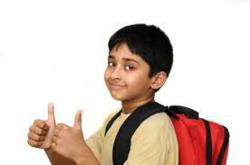 To avoid pain and injury, a backpack should weigh no more than 10% to 15% of the child's body weight.
Rhinebeck, NY (PRWEB) August 15, 2012
It's back-to-school time and that means shopping for essential school items. While a backpack is the most popular and practical way for children and teenagers to carry their books and school supplies, backpacks that are too heavy or worn incorrectly can cause serious back, neck and shoulder pain. The risk of injury and pain can be avoided by choosing a well-fitting backpack and following proper packing procedures.
Back to School Doesn't Have to be a Pain: Tips for Back Safety
Lou Paradise, president and chief of research of Topical BioMedics, Inc., makers of Topricin Pain Relief and Healing Creams, offers the following tips for backpack safety to make back-to-school time safer and less painful for students.
--Make sure backpacks fit properly and have padded backs and straps.
--Children should wear BOTH straps – slinging a backpack over one shoulder can strain muscles.
--Teach your child to pack light only carry what is necessary to avoid any excess weight.
--A backpack should weigh no more than 10% -15% of the child's body weight.
--The backpack's straps should fit snuggly over the child's shoulders.
--Parents should pick up their child's backpack on a regular basis to gauge its weight.
--Make sure the backpack is positioned on the back between the shoulder and not resting on the child's lower back or hips.
--Tighten the straps so the pack sits close to the body.
--Organize the pack carefully and pack the heavier items closet to the center of the back.
--If your child is complaining about aches and pains, apply Topricin Junior Pain Relief and Healing Cream—a safe and effective, natural biomedicine formula for children that's free of parabens, petroleum, and other harsh chemicals and with no side effects, odor or grease. (More information at http://www.topricin.com).
--If your child is experiencing back pain, weakness or numbness in the arms or legs, be sure to speak with your doctor.
Features to Look for When Choosing a Backpack
When shopping for a backpack, be sure look for the following features:
--Two shoulder straps to distribute weight evenly.
--Wide, padded shoulder straps that won't dig into shoulders causing pain and cutting off circulation.
--Padded back provides more comfort and protects children from being poked by sharp objects inside the backpack.
--Backpack should be made of durable, lightweight material.
--Waist belt to distribute the weight more evenly across the body.
--Backpacks with wheels are an excellent choice for older students who must tote a heavy load, but can be cumbersome and are less practical for use in snow.
Signs That Signal a Backpack is Too Heavy
Mr. Paradise states, "A 1999 study showed that more than half the children carried backpacks weighing more than the recommended 15% of their body weight. That same year, emergency rooms saw more than 3,3000 backpack-related injuries in children between the ages of five and 14—a number that does not include youngsters who went to family physicians or chiropractors to treat their injuries. This problem can be eliminated by making parents and students aware of backpack safety procedures."
Most importantly, Mr. Paradise says it is important for parents to look for signs that their child's back is too heavy and take steps to ensure their back safety.
Signs to look for include:
--A change in your child's posture when wearing the backpack
--Struggling to put on or take off the backpack
--Pain when wearing the backpack
--Red marks from the shoulder straps after the backpack has been removed.
National Backpack Awareness Day
On the third Wednesday in September, occupational therapy practitioners and students celebrate the American Occupational Therapy Association's National School Backpack Awareness Day. This initiative was created to educate parents and students about the serious health risks of backpacks that are too heavy or worn improperly so they can avoid pain and injury. 2012 marks the 12th annual event, which will take place on September 19th . For information and resource materials, visit http://www.aota.org/Practitioners/Awareness/School-Backpack-Awareness.aspx
About Topical BioMedics, Inc.
Topical BioMedics is the research and development leader in topical patented natural biomedicines for pain relief. The company's flagship product, Topricin® Pain Relief and Healing Cream, was introduced in 1994 and is now a leading natural therapeutic brand. A combination homeopathic formula, Topricin was awarded a patent for the treatment of pain associated with fibromyalgia and neuropathy. The Topricin family of natural healing products also includes Topricin Foot Therapy Cream, specially formulated to treat painful foot and ankle issues and conditions, and Topricin Junior for children, which received the Parent Tested Parent Approved Seal of Approval (with 5% of sales of Topricin Junior donated to pediatric cancer foundations). Made in the U.S.A., all Topricin products are federally regulated over-the-counter medicines with no side effects, no parabens, petroleum, or other harsh chemicals, no grease, and no odor.
Topricin is available in pharmacies, natural food stores, and retailers nationwide, including Whole Foods, The Vitamin Shoppe, Fred Meyer, Wegmans and other fine stores, as well as directly from the company.
For more information visit http://www.topricin.com.
SOURCES:
Backpack Safety America
KidsHealth.org
American Academy of Orthopaedic Surgeons
North American Spine Society's "Know your Back"
Topical BioMedics, Inc.
The Orthopaedic Institute
American Occupational Therapy Association
Topical BioMedics, Inc.