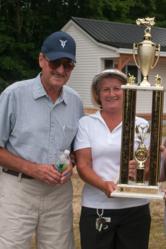 CONCORD, NH (PRWEB) August 15, 2012
Charter Trust Company announced the recipient of the 2012 Annual Antique & Classic Car Show "Best of Show" Award went to David & Kathy Eaton of Melvin Village, NH. The winning car was a Black 1940 Ford Convertible. David Eaton was presented the Charter Trust Best of Show Award by Charter's Elizabeth Kapp, Vice President & Wealth Advisor.
Charter Trust, headquartered in Concord, New Hampshire, was formed in 1984 as a New Hampshire Trust Company, chartered by the State of New Hampshire Banking Department. Charter Trust is the largest, locally owned, investment management company in Northern New England. With six offices, Charter Trust serves clients throughout the United States and abroad.