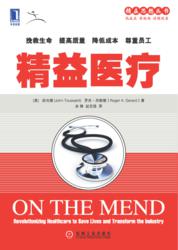 Appleton, WI (PRWEB) August 16, 2012
The ThedaCare Center for Healthcare Value is excited to announce that the award-winning book, On the Mend: Revolutionizing Healthcare to Save Lives and Transform the Industry, by Dr. John Toussaint and Dr. Roger Gerard has been translated into Chinese. The book, which releases on August 16 in China, also received a cover-art face lift for Chinese readers.
"Change is happening in healthcare and business at a global scale," said Dr. Toussaint, the book's co-author and CEO of the Center. "We're eager to share On the Mend's lessons with healthcare and business leaders in China who, like us, want to make a change toward a value-based approach through lean principles."
Part case study, part manifesto, On the Mend uses plain language and real-life examples to explain lean healthcare – not as theory, but as a working system applicable to any healthcare provider. Only when healthcare is fundamentally improved at the point of delivery will patients around the world finally be on the mend.
"We wrote this book to offer the beginnings of a 'blueprint' for bringing about change in how care is given at the bedside," said Dr. Gerard, of ThedaCare. "Large change requires thousands of small changes accomplished by many people together, over time. Our work with lean principles gave us many of the tools to do this successfully."
The lead translator on this edition is Dr. Marcus Chao, president of Lean Enterprise China (LEC), an affiliate of the Lean Enterprise Institute in China. Dr. Chao organized a group of graduate students to make the first round of translation and then invited his good friend Mr. William Yu, the Asian Pacific president of Ingersoll Rand Security Business Unit to review the draft. Dr. Chao then made the final review to ensure the translation reflected the authors' original script and was easy to read and understand by Chinese readers. It took the team about ten months to complete the task.
LEC has partnered with the China Machinery Publishing Hua Zhang Company to print and publish most of its lean books in China. On the Mend is LEC's 18th book and the latest one in China. The book will be launched in Beijing at the first Lean HealthCare Summit, which is a break out section at the China Hospital Association's annual conference. More than 2,000 hospital leaders and health industry leaders are expected to attend.