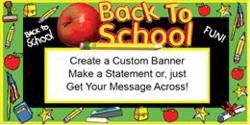 Chicago, IL (PRWEB) August 16, 2012
The summer is coming to an end and it's almost time to put away the bathing suits and dust off the calculators and notebooks. Most children are excited to head back to school and start the year fresh with new teachers, new classes, new students, and most importantly, a clean sports record. According to an article from parentfurther.com, "one of the best ways to foster a deep attachment to school is to help your child get into the school spirit." One of the ways to do this is to encourage children to attend school sporting events, join school clubs, and participate in school fundraisers. Windy City Novelties provides all the school spirit party supplies necessary to get students excited about going back to school.
Teachers and professors can make their students feel welcome and get them into the school spirit by decorating classrooms. Windy City Novelties has a collection of custom banners in which one can print personalized messages to hang in the doorway of a classroom on the first day of school. Having an end-of-the-summer/back-to-school party can get kids excited about going back to school. Windy City Novelties' website makes it easy to find party supplies in school colors by allowing shoppers to browse according to color. They offer paper goods and glassware in every color, along with ribbon and balloons, for easy decorating.
Children can get into the spirit of things by participating in sports, or by attending their school's sporting events. Football games are a popular sporting event at most schools. Coaches can create personalized sports banners to inspire their teams to play their hardest, or parents and fans can print their child's name on them and hold them while cheering in the bleachers. Windy City Novelties offers an assortment of wigs, hats and necklaces for students and teachers to wear on game days and show their support.
For those students that attend big colleges, or for college football fans, the website contains a separate NCAA party supplies section. Tailgating is a surefire way to get people excited about representing their team. Fans can sport their favorite school's attire and accessories while tailgating or while watching the game at home on television. To get the team revved up and excited, Windy City Novelties supplies numerous NCAA noisemakers to use while standing in the crowd in your team's stadium.
Getting students involved and participating in school spirit activities can help ease the transition from summer to the back to school routine. Windy City Novelties helps students stand up and cheer for their school this Fall!
ABOUT WINDY CITY NOVELTIES
Windy City Novelties, a party supply company founded in 1983, is known for their great selection and competitively priced items. They have an A+ rating from the Better Business Bureau and are also a NexTag 5 star Seller. From their website, windycitynovelties.com, they offer fast and friendly shipping along with great customer service. From glow sticks to balloons in every color of the rainbow, and even a vast selection of costumes at the best prices, Windy City has over 15,000 products and adds more each week.