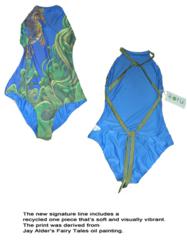 I'm really excited to showcase my talents on Koru Swimwear's line and I love the fact the company is creating all recycled swimwear...
Cocoa Beach, Florida (PRWEB) August 17, 2012
Koru Swimwear, an eco-friendly luxury sport and lifestyle swimwear company, has partnered with renowned surf artist Jay Alders on a signature line for the newly launched company. His collaboration with Koru Swimwear will include swimsuits displaying his original surf lifestyle paintings and custom prints designed to reflect the New Zealand inspired swimwear brand.
Jay Alders has earned a huge following in the surfing world with nature inspired paintings and dramatically exaggerated figures in perfectly formed waves. Jay's work has been featured in Galleries from New York City to California, Art Tours in Brazil, Surf Exhibitions on the North Shore of Oahu and the 2008 X Games.
In November 2009, Jay was described as "The Artist Who is Everywhere" by ESPN because of Jay's constant globe-trotting and impressive industry involvement. Prestigious media outlets & organizations like Surfer Magazine, FuelTV, Surfline.com, SIMA, Line Up Magazine, Longboard Magazine, Eastern Surf Magazine, FHM Magazine, Curl Magazine, RagMag and Go Outside Magazine, all showcased Jay's artistic endeavors. Brazil's Alma Surf Magazine named Alders, "The Best Surf Artist of the Past Decade in 2010″.
"I'm really excited to showcase my talents on Koru Swimwear's line and I love the fact the company is creating all recycled swimwear. I'm a huge proponent for the environment and I'm happy to work with a company where I can show my artwork on a product that's sustainable and eco-friendly," said Jay.
Jay's first swimsuit for Koru Swimwear's 2012 line is a one-piece that uses elements of his Fairy Tails painting onto soft recycled fabric that provides a full-coverage canvas on the front and minimal coverage in the back. Its colorful and vibrant image on the front compliments the solid colors used for the minimalistic back.
"We were actively planning to find an artist who would fit into our brand and it was natural to ask Jay to collaborate with Koru Swimwear. Not only do we love Jay's artwork talents, we also love the fact that he is actively involved in environmental causes and has a great love for the ocean and surfing," commented Julie Stine, CEO and Designer at Koru Swimwear. "By the way, he's also a great guy with a lot of compassion," added Julie.
ABOUT KORU SWIMWEAR Koru Swimwear is a luxury eco-friendly swimwear line for sport and leisure. The swimwear line is designed and manufactured for women who demand quality and put a lot of thought into what they wear. The brand is Kiwi inspired from Julie Stine's family heritage and the word "Koru" encompasses the brands' integrity which is taken from a New Zealand Maori term and symbol meaning new and evolving life, new beginnings, spiritual growith, strength, peace and harmony. To learn more about Koru Swimwear, please visit http://www.koruswimwear.com.
ABOUT JAY ALDERS Jay Alders is a fine artist, photographer & designer whose distinctive style & imaginative prowess is recognized around the world. His intricate brushwork, intense colors & superb compositions bring to life his signature elongated figures & stylized forms. For more about Jay Alders, please visit his official site at http://www.jayalders.com.
Contact: Rosie Mueller
VaVa Voom Design
info(at)vavavoomdesign.com
626-993-4613