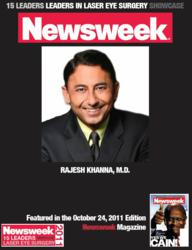 Lakers, bring Los Angeles a Championship win this year
Los Angeles, CA (PRWEB) August 17, 2012
Look out LA, Dwight Howard is coming to town. The LA Lakers, a prized, glorified and esteemed NBA team are known worldwide for their successful championship wins. Their dedicated teamwork and powerful players have generated even a more massive following over the last decade. With the recent trades the new Laker line-up has been quite controversial, and thousands look forward to the upcoming season. Fellow LA Laker Kobe Bryant states, "I have spoken to Dwight Howard already and we are locked and loaded to bring back the title." On the court defensive powerhouse Dwight Howard is known for his insane speed and excellent defensive skills. While off the court, he can be recognized by his charming smile, tall stature, and expensive glasses.
Well the Khanna Vision Institute has offered their services to Dwight to rid him of those glasses once and for all. The Khanna Vision Institute is one of the leading laser eye centers in the Los Angeles area. They have worked on a number of celebrities, actors, and athletes. Those that we can disclose include; Brenda Song, Corbin Blue, Kevin Sorbo, and Bass Rutten.
As Dwight gears up for the NBA season, the Khanna Institute knows that enhanced vision could help him perform at his best possible ability. Dr. Rajesh Khanna, founder and leading Laser eye physician at the Khanna Institute, has seen first-hand the dramatic influence and positive outcomes of laser eye surgery. Athletes such as USA water polo player Ryan Bailey, is an Olympic gold medalist and had his vision virtually transformed in the hands of Dr. Khanna. Thru his experience and expertise, Dr. Khanna is positive that he can improve Dwight's clarity of vision and quality of life. For those individuals that play sports, particularly at the professional level, flawless vision can mean the difference between dunking the winning basket and catching that free-throw. Anyone who knows anything about basketball can recognize Dwight's sheer talent and tenacity, and Khanna Vision Institute knows that with flawless vision Dwight's game can only get better and help the Lakers bring Los Angeles a championship win this year.