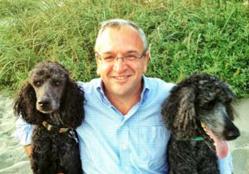 Seattle, WA (PRWEB) August 16, 2012
Trupanion, North America's second-largest and fastest-growing pet insurance provider1, today announced the recent hire of Michael Banks as Chief Financial Officer. Banks brings over 30 years of leadership experience to Trupanion.
Banks, a 1981 graduate of the University of Delaware, will be in charge of all financial functions within the company, including financial plans and policies, accounting practices and procedures, and the company's relationship with the financial community. After taking his last company public, he will ensure that Trupanion is well-positioned for potential initial public offering.
"Mike's common-sense approach to leadership is a great fit within our corporate culture," said Darryl Rawlings, Chief Executive Officer at Trupanion. "His reputation for balanced judgment, stability, and his capacity to steer consensus among diverse agendas and visions is something we have been looking for and feel quite lucky to find."
Prior to joining Trupanion, Banks served as Executive Vice President and Chief Financial Officer at Penn Millers Holding Corporation in Wilkes-Barre, Penn., where he was responsible for strategic planning, performance management systems, acquisitions and divestitures, and building operations and services.
"Trupanion's incredible growth and value within the industry, and the ambitious and experienced management team, are what drew me to the position," said Banks. "I am confident I can use my experience to help propel this company to even further success."
Banks has also held leadership positions at Atlantic Mutual Companies in Madison, NJ; AMBAC Indemnity Corporation in New York, NY; and KPMG Peat Marwick in Short Hills, NJ.
Banks lives in the Ballard community of Seattle with his wife, two daughters, and two Standard Poodles.
(1)Based on a competitive analysis of Trupanion's gross written premium compared with the net premium reported by other industry providers, as well as Google Insights for Search.
About Trupanion™
Trupanion™ is an industry leader in pet insurance, offering cat and dog insurance in the United States, Canada and Puerto Rico with the mission of delivering financial peace of mind to pet owners. Trupanion offers a simple, customizable pet insurance policy with 90% coverage for diagnostic tests, surgeries, medications, hospital stays, and alternative therapies for the treatment of accidents or illnesses. Trupanion's policy includes coverage of hereditary and congenital conditions with no payout limits per incident, per year, or over the lifetime of the pet.
Trupanion™ is underwritten by the American Pet Insurance Company, which has earned a Financial Stability Rating of A, Exceptional, from Demotech, Inc. and is a founding member of the North American Pet Health Insurance Association (NAPHIA), demonstrating our commitment to high standards and transparency in all of our actions and products. For more information call 800-569-7913 or visit Trupanion.com. You can also follow Trupanion on Twitter or Facebook.