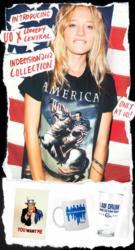 Philadelphia, PA (PRWEB) August 15, 2012
Fans of Comedy Central's The Daily Show and The Colbert Report can now express their political views—or lack thereof—through a new collection of Indecision 2012 merchandise, available exclusively at Urban Outfitters.
The Indecision 2012 products mark Urban Outfitters first collaboration with a major television network, and the collection is spreadacross men's and women's apparel and housewares.
Political animals can toast election results (or drown their sorrows) with beer mugs that read "I Am Drunk (And So Can You)," and "Let Freedom Drink." T-shirts include The Daily Show and "Indecision 2012" logos, and a button set includes pins that read "I'm Bi-Partisan Curious" and "I'm Kind of Insane and I Vote," among others.
To support the launch, Urban Outfitters is kicking-off "Join the Party-Literally," an Indecision 2012 sweepstakes. Running from August 15 through September 15, the contest offers one lucky fan a chance to win a trip for two to New York City, where they will get to watch the presidential election results roll in at the official Comedy Central "Indecision 2012" election night party.
For more information contact Crystal Carroll at ccarroll(at)urbanoutfitters(dot)com