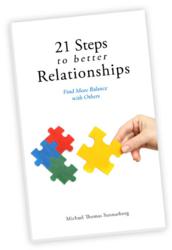 The key to finding better balance in any relationship always begins with you.
St. Paul, MN (PRWEB) August 21, 2012
"Most people think it will take an Armageddon to fix their relationships," says Michael Thomas Sunnarborg, author of 21 Steps to Better Relationships. "But there are a few basic tips that anyone can apply to quickly repair a current relationship or start a new relationship off on the right foot."
Sunnarborg offers the following tips for healthier relationships:

Know yourself. Quiet yourself for a moment and decide what you really want and what's important to you. Many of us haven't taken the time to think about what we truly want, so our expectations are out of sync with our environment and the people in it. When we are in better balance and alignment with our own goals and desires, our closest relationships will reflect that back to us. Our happiness is their happiness.
Listen. Then stop and really listen. Most of us think we are good listeners, but we're usually preparing a response to what's being said instead of truly listening to others. Stop and give your full attention when someone is speaking to you and ask questions for clarification. Sometimes they're just processing their own solutions out loud, so let them. You might be surprised what you hear, and even more surprised by what you learn.
Soften your stance. Tired of pushing your pitch? Although our opinions are important, we learn the most by sharing ideas through collaboration rather than collision. Learning to soften our stance can transform our power in relationships into an invitation rather than a challenge; it also promotes goodwill. A little kindness and a thoughtful approach can go a long way.
Walk in their shoes. Understanding and appreciating the perspective of others can't be underestimated or overstated. We all have different filters and experiences that bring us the colorful contrast we can appreciate. Get out of your head more often and see things through another person's eyes. Be willing to listen and learn. Experience is, indeed, the best teacher.
Go with the flow. When Mahatma Ghandi said, "Be the change you wish to see in the world," he wasn't just whistling Dixie. If you want change in your relationships, begin with yourself. Where are you resisting change? How would it be different if you accepted it, or even encouraged or facilitated it? Try changing something about your routine that you have been resisting. Notice how the new relationship with yourself affects your relationships with others.
21 Steps to Better Relationships provides 21 bite-size nuggets designed to improve all relationships. Each step can be read in 15 minutes or less, giving the reader short bursts of inspiration. The steps are simple, easy to apply, and will help you find better balance with others—regardless of who they are.
Printed and digital books are available at 21stepstorelationships.com, Amazon, and all major online retailers. For more information about other books by Creative Consulting, visit michaelsunnarborg.com