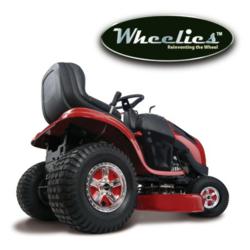 "We're happy to partner with the STA-BIL Lawn & Garden Mower Racing Series for their national championships and to showcase WheeliesTM. and our other Good Vibrations products," said Dave Merten, President of Good Vibrations®, maker of WheeliesTM. "
Northbrook, IL (PRWEB) August 17, 2012
WheeliesTM Tractor Wheel Covers will spread "Good Vibrations" at the 20th Anniversary STA-BIL Keeps Gas Fresh Finals Lawn Mower Racing Championships as the Official Wheel Covers of the Labor Day Weekend Mow Down Show Down, Sept. 1-2 in Delaware MOWhio.
WheeliesTM Tractor Wheel Covers, a product of Sturtevant, Wisconsin-based Good Vibrations®, will showcase its line of 6-inch and 8-inch tractor wheel covers at the showcase event of the United States Lawn Mower Racing Association (USLMRA).
The USLMRA Driver of the Year, Most Improved Driver, Junior Rookie of the Year and Facelube Fresh Face Adult Rookie of the Year will be selected at the annual USLMRA National Awards Banquet on Sunday, Sept. 2 and will receive WheeliesTM Tractor Wheel Covers to mark their "mowmentous" achievements.
"We're happy to partner with the STA-BIL Lawn & Garden Mower Racing Series for their national championships and to showcase WheeliesTM. and our other Good Vibrations products," said Dave Merten, President of Good Vibrations®, maker of WheeliesTM. "
WheeliesTM Tractor Wheel Covers come with five color inserts to match any paint scheme or OEM lawn mower manufacturer, and their chrome finish does not rust. WheeliesTM come in 6", 8", 10" and 12" sizes and are available at retailers nationwide.
Good Vibrations® offers a wide variety of products for outdoor power equipment. For lawn tractors they have Clean Machine Non Stick Mower Repellant w/ Teflon®, The Easy Rider Tight Turn Steering Knob, The Hitchin' post 3-Way Hitch Plate, The King Pin Quick-Connect Hitch Pin, and the Spark Doctor Spark Plug Tune-Up Tool. For walk-behind mowers they have The Good Vibrations Lawnmower Comfort Grip, The Grass Hawk Dual Bladed Mower Scraper, and the Start Me Up Full-Grip Starter Handle, and for trimmers, their Wrap It Up On-Board Cord Storage.
The STA-BIL Lawn and Garden Mower Racing Series is sanctioned by the U.S. Lawn Mower Racing Association, the nation's oldest and largest lawn mower racing sanctioning body. Founded on April 1, 1992 and celebrating its 20th Anniversary in 2012, the USLMRA sanctions and presents organized lawn mower racing across America including the 20-race STA-BIL Lawn and Garden Mower Racing Series and a network of 50 Local Chapters and Affiliated Clubs hosting more than 140 sanctioned races nationwide. Title sponsor STA-BIL is the #1 selling fuel stabilizer that keeps gas fresh in stored power equipment. STA-BIL lawn mower racers compete in seven classes at speeds up to 60 mph with all cutting blades removed.
USLMRA Title Sponsor is STA-BIL®, America's top selling fuel stabilizer that keeps fuel fresh for quick, easy starts after storage along with support from K&N Filters, HEET Gasline Antifreeze, Start Your Engines! 104+ Octane Boost, No Leak, Alumaseal, Auggiedog Poop Pick-Up Tool and Facelube Ultra Masculine Men's Anti-Aging Skin Care.
For mow information visit http://www.gvpower.com.