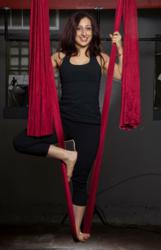 Four Elements Yoga & Fitness is the only space in Austin designed specifically for aerial yoga.
AUSTIN, Texas (PRWEB) August 16, 2012
On Aug. 25, 2012, vibrant couple Lydia Michelson-Maverick and John Maverick will open the doors to Four Elements Yoga & Fitness, Austin's newest downtown yoga studio housing Austin Aerial Yoga and an array of feel-good health & wellness classes. The new urban loft studio will be housed at 314 Congress Ave., Ste. 200, characterized by historical rock walls and windows that invite natural light in to the rejuvenating space.
Aerial yoga is a fitness practice that involves participants suspended in the air by silk hammocks mounted to the ceiling. Four Elements Yoga & Fitness will feature gentle, restorative, and rigorous classes in both aerial yoga and traditional ground yoga. Four Elements will host classes for all levels from beginner to advanced in a variety of modern yoga styles like hatha, vinyasa, including Pilates, aerial Pilates, yoga fusion, Forrest yoga, and belly dance.
The Mavericks created Austin Aerial Yoga in October of 2011, holding classes at Dane's Body Shop on Guadalupe. Due to an increasing popularity in aerial yoga classes and a desire to offer more, larger, and different types of classes, they began contemplating opening their own studio.
At the start of 2012, Lydia took a photo of the new downtown location for lease when driving by and began to dream. After a few months of negotiations assuring the owner that the integrity of the historical space would be preserved while placing priority on safety for clients, the dream became real.
"It might have been easier to set up in a location that was already engineered to support more weight, but this building from the 1880's had such a magical feel, this was to be the home studio of Four Elements," said Michelson-Maverick. "We went through two structural engineers before we came up with a suitable plan to assure the safety of our clients." Tube steel beams span the ceiling, each weighing close to 500 pounds. Between the industrial and rock climbing equipment used, the silk hammocks can safely hold up to 2,700 pounds of weight. Four Elements is the only space in Austin designed specifically for aerial yoga.
To create the space envisioned by the owners, a significant financial investment in renovations and equipment transforms the suite into a safe, modern, clean, and hip studio where Austinites can try new fitness practices and test their physical and emotional boundaries. Among the enhancements to the studio are sustainable bamboo flooring, calming water fountains, and two full bathrooms with showers, available to clients returning to work or venturing out for an evening.
Class size ranges from eight to twenty-two participants, depending on yoga variation; more can be accommodated in the ground classes. Two studios within the space allow two classes to occur simultaneously. Ground classes cost $18 each; aerial yoga and aerial Pilates are $25/class. Multiple-class cards and a limited number of monthly memberships available at a discount.
Students can view the class schedule and sign up for the class registration system at http://www.fourelementsaustin.com.
The Grand Opening will be held Sat., Aug. 25th at the studio from 11a.m. – 5p.m., featuring demo classes every hour on the hour, first-come, first-served, and a meet-and-greet with the owners. The public is invited to view the space and ongoing demos during the opening.
Follow Four Elements Yoga and Fitness on Facebook and Twitter for information about the grand opening celebration and class updates.