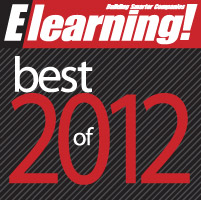 Los Angeles (PRWEB) August 16, 2012
Elearning! and Government Elearning! magazines, the industry voices of the enterprise learning and workforce technology market, announced today the finalists of the Best of Elearning! Awards 2012. Readers and professionals from both the private and public sector cast ballots for the best solutions providers.
Vubiz is honored to be nominated as a finalist in the best in compliance and certification programs.
"The Best of Elearning! Awards program formalizes the informal "word-of-mouth" referrals practiced in the elearning industry. According to a recent survey, 85 percent of professionals have personally recommended a learning solution to a colleague over the past 12 months. And 61 percent agreed that award recognition impacted their buying decision," cites Catherine Upton, group publisher of the Elearning! Media Group.
This year, the Elearning! Magazine Group received 3,881, a 221 percent increase over 2011.
"Our industry is experiencing a period of innovation and transformation. The introduction of new social, mobile solutions and learning and talent software is reflected in the number of honorees in this year's Best of Elearning! Awards. These awards are committed to recognizing innovation and user satisfaction across a diverse group of solution providers," reports Jerry Roche, editorial director of the Elearning! Magazine Group
Each finalist is honored for excellence and the top vote-getter in each category is named the winner. "Every finalist is a winner in the Best of Elearning! Awards. Given the high volume of votes and the number of nominated products, every one of these solution providers should be proud to be honored for excellence," concludes Catherine Upton, Group Publisher, Elearning! Media Group.
Winners will be revealed at the upcoming Enterprise Learning! Conference & Expo on September 26, 2012