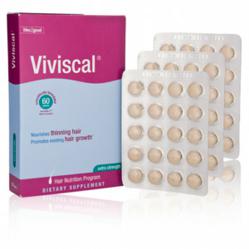 "Viviscal is clinically proven and scientifically developed to restore hair health. The supplement is a 100% drug-free, made with unique ingredients which promote thicker, longer, and faster growing hair."
Chicago, Illinois (PRWEB) August 16, 2012
Lifes2good, developers of the #1 selling hair loss supplement Viviscal, today announced its Real Stories Campaign on hair loss. Throughout the second half of August, which is hair loss awareness month, Viviscal will be sharing 31 stories from men and women who suffer from thinning hair. These stories showcase the various aspects of hair loss as well as what these individuals are doing to overcome it.
Hair loss affects roughly 40 million women in the United States, most of which suffer in silence. A recent survey by Lab42 for Viviscal found that 66 percent of women suffering from hair loss think about their hair loss daily and that 20 percent of women suffering from hair loss do not talk about it with anyone. In addition, 79 percent of women agree that their hair loss makes them less happy than they could be. Of those, 9 percent said their hair loss makes them depressed.
"We understand the powerful effect a thinning head of hair can have on a person's confidence, but we also believe there is hope when you care for your hair from within," said Mark Holland, chief executive officer of Lifes2good, manufacturers of Viviscal. "Hair loss is a problem that affects both men and women. Viviscal's goal is to remove the stigma associated with hair loss and to raise awareness that there are options including cortisone injections, laser treatment and hair growth supplements."
Viviscal hair supplements are available nationwide at CVS, Walgreens and Rite-Aid, online at http://www.viviscal.com or by calling 1-877-333-4581. A 60-tablet box of Viviscal, equivalent to one month's supply, is priced at $49.99. Viviscal Professional, a stronger version of the supplements, is exclusively available through salons, spas and physician offices. The Professional line supplements contain 28 percent AminoMarC Marine complex, as well as Biotin, Fumed Silica and Procyanidin B2, an apple extract. For more information on the professional line, visit http://www.viviscalpro.com.
For maximum results, supplements should be taken twice daily – once in the morning and again in the evening. Visit http://www.viviscal.com for more information.
ABOUT VIVISCAL:
Viviscal natural supplements are clinically proven and scientifically tested as an effective tool to combat thinning hair in both men and women, and are appropriate for all hair types. It is the #1 hair supplement in the world and the only one with seven clinical trials behind it. The hair vitamins contain the exclusive AminoMar C Marine Complex, which supplies vital nutrients needed to nourish thinning hair and promote existing hair growth. AminoMar C is composed of fish proteins that increase the body's natural production of keratin. The European product works in four stages over a period of four to six months, with many users seeing results in as early as three months.
Viviscal is the world's leading brand of dietary supplements for the treatment of reversible thinning hair and hair loss for both men and women. Made in Ireland, Viviscal uses a proprietary marine complex called AminoMar C™, originally identified by Finnish researchers in the 1990s. The treatment is supported by seven scientific studies, including researchers from the Swedish Alopecia Association, Helsinki Research Center, Finland's Department for Dermatological Research and Dermatological Clinic in Leverkusen, Germany. Viviscal is owned by Lifes2Good, whose U.S. headquarters are in Chicago, Ill.