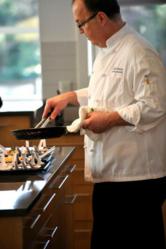 All of the ingredients for the meal come from the Market, so it is the best of fresh, local, and sustainable.
Boise, Idaho (PRWEB) August 17, 2012
The Capital City Public Market (Saturday Boise Farmers Market) will hold its annual fund raising gala on the Grove in downtown Boise on Saturday, September 8, 2012, from 6-10 p.m. The Harvest Moon Dinner features the best in Idaho agriculture and local ingredients: a one-hour wine reception with four Idaho wineries followed by a five-course sit-down dinner with each course prepared by a Treasure Valley chef. All of the ingredients for the meal come from the Market, so it is the best of fresh, local, and sustainable. Seating is limited to 120.
The Dinner is the Market's primary fundraiser; profits are used to finance Market activities such as Kids at the Market, Market Outreach, Miles to Market, Outstanding Farmer Award, and the startup annual Soil Conference. These programs and many others support the Market's mission to encourage and support sustainable agriculture in Idaho.
Cafe Vicino's Chef Richard Langston is preparing the main course of the five-course dinner. "With so many wonderful ingredients to choose from, it can be difficult to decide what to cook," says Chef Langston. He plans on preparing his take on Lamb Tagine, featuring local lamb, apricots, squash, potatoes and other vegetables. "The Moroccan spices really lend themselves to the sweet earthiness of the lamb," Chef Langston says. "It's usually best to use the traditional spices of a particular cuisine; why mess with something that works? I'll lighten the dish up with additional veggies and a leaner cut of lamb."
Last year, Chef Langston prepared the salad course, and he remarked that all the chefs involved helped each other plate each course. "It's a great way for local chefs to work together--we don't get that opportunity very often," Chef Langston explained. "I'm happy to have been asked to participate again this year."
Chef Langston's restaurant, Cafe Vicino (va-CHEE-no Italian for "neighborhood") has been a local favorite since it opened in 2007. Drawing on influences from Italy, Spain and France, Café Vicino's menu is innovative, ingredient-driven and flavorful.
Café Vicino's intimate, elegant setting provides the perfect space to enjoy Chef Langston's seasonal menus of locally sourced produce, fresh fish, meat and game. Daily specials add to the variety of choices for both lunch and dinner.
The affordable wines on Café Vicino's wine list are hand-selected by Chef Langston to complement the menu. Selections are sourced from both the old and new worlds: Italy, France, Spain, Oregon, California, Idaho and Washington.