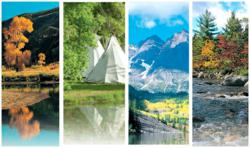 ILCC is a new paradigm for Indian Country: Indian people creating Indian solutions using Indian resources. - Bill Lomax, NAFOA
Roscoe, Montana (PRWEB) August 15, 2012
For the second year running, ILCC, an American Indian Community Development Financial Institution (CDFI) and leader in the tribal land financing and acquisition movement, has received the highest tier financial award ($750,000) from the Treasury Department's Community Development Financial Institutions Fund (CDFI Fund).
CDFI Fund Director Donna J. Gambrell and Treasury Deputy Assistant Secretary Don Graves recently announced awards totaling nearly $11.5 million for 33 Native Community Development Financial Institutions (Native CDFIs). The CDFI Fund's Native American CDFI Assistance (NACA) program provides technical and financial assistance to Native American tribes, tribal entities and other CDFIs serving Native American, Alaska Native and Native Hawaiian communities.
NACA awards assist financial institutions which have a primary mission of serving Native communities to increase their lending services and financial products, as well as to build their own internal capacity to serve their target markets. "This year's awardees will continue to provide vital financial services in low-income areas that are typically overlooked by traditional lenders, bettering the lives of Americans nationwide," said Gambrell.
"Receiving the NACA Award for a second year is a great honor," said Gerald Sherman (Oglala Lakota), ILCC's President and CEO. "The award will help ILCC to scale up our loans for tribal land recovery and address long-standing fractionalization issues," added Sherman.
ILCC was created in 2005 as a collaborative effort between the Indian Land Tenure Foundation (ILTF) of Little Canada, MN and the Native American Community Development Corporation (NACDC) of Browning, MT, to bridge the gap in lending to tribes and to facilitate the acquisition of Indian lands for social, cultural, and economic purposes. Working with the Indian land and economic pioneers Cris Stainbrook (Oglala Lakota) and the late Elouise Cobell (Blackfeet) as founding directors, Sherman has positioned ILCC at the forefront of a Native American movement to reclaim land using Native resources. Prior to starting ILCC, Sherman was a banker focused on community development and finance on Indian reservations and the founding director of the Lakota Fund, a well-known CDFI and one of the first microfinance funds in the United States.
With operational headquarters near Red Lodge MT, ILCC joins the Native American Development Corporation of Billings as the only Montana-based CDFIs to receive NACA funding in this round.
"This will support local efforts to create good-paying jobs throughout Indian Country," said Montana's senior U.S. Senator Max Baucus, a long-time supporter of Community Development Financial Institutions. "These resources will help Montana tribes and tribes across the nation better attract business and follow through with an economic development vision for future generations."
To date, ILCC has raised $7.5 million in funds from socially-conscious investment sources including ILTF, Ford Foundation, CDFI Fund, Wells Fargo, Otto Bremer Foundations, First Nations Oweesta Corporation, individual tribes, and others. In June 2012, ILCC received a $1 million low-cost loan from Bank of America to help tribes acquire lands for business development, housing and community–based projects.
ILCC has made approximately $6.3 million in loans to Indian nations and entities, and has assisted in the recovery of nearly 30,000 acres of tribal land in Washington State, Montana, Minnesota, and California. Projects made possible through ILCC financing have included expansion of a health care facility, construction of homes for tribal members, sustainable forest management, wetland restoration, agriculture/ranching, and protection of sacred and cultural sites.
ILCC's long-term goal is to substantially increase its loan pool and its capacity to make more and larger loans. In 2011, ILCC launched a campaign to raise $4 million in the first year with the goal of building a $100 million investment fund for Indian Country over the next 10 years.
"In 2012 -- 125 years after passage of the Dawes Act that resulted in the loss of nearly 90 million acres of Indian land – we are helping make land recovery and acquisition more financially viable for tribes and thereby assisting essential economic and development goals throughout Indian Country," stated Sherman.
About ILCC and its Founding Partners
ILCC is a certified Native CDFI (April 2011 designation) providing alternative loan options to Indian nations for tribal land acquisition. ILCC grew out of an identified need in Indian Country for financial mechanisms that offered full faith and credit lending options for tribal land purchases. Unlike traditional lending institutions, ILCC responds directly to the unique financial needs of Indian nations, and as a Native-run business, ILCC understands and supports tribal sovereignty and recognizes the importance of land to Indian people. Learn more at http://www.ilcc.net. As partners of ILCC, ILTF and NACDC provide technical support and grants to tribes for the development of strategic land acquisition plans. ILTF is a national, community-based organization focused on American Indian land recovery and management. It works to promote education, increase cultural awareness, create economic opportunity, and reform the legal and administrative systems that prevent Indian people from owning and controlling reservation lands. NACDC is the nonprofit affiliate of the Native American Bank. NACDC's mission is to remove the barriers that exist in Indian Country that prohibit the flow of capital and credit. NACDC addresses critical needs in Native communities related to growth of family assets and sustainable economic development. NACDC provides financing, technical support and training to Native communities and tribal members for housing, economic development and land recovery. Learn more at http://www.iltf.org and http://www.nacdc.org .
ILCC - The Leader in Tribal Financing for Indian Land Recovery and Economic Development.