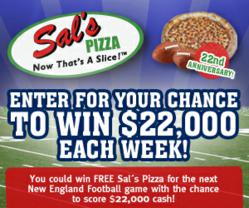 Boston, MA (PRWEB) August 16, 2012
Sal's Pizza is celebrating 22 years of business this year by giving away the chance to win a twenty-two thousand dollar tailgate party each week during the NFL regular season.
Each week, contestants will visit http://www.sals-pizza.com/tailgate/ and enter their score prediction for that week's NE football game. One grand prize finalist will be randomly selected and will win a $100 gift card for Sal's Pizza. If the score predicted by the finalist matches the final score of the game, they win the $22,000 prize. This continues for the entire 16 weeks of the New England season – meaning we could award 16 $22,000 prizes.
Bonus runner-up prizes will be awarded to 22 additional people each week as well. Following each game, 11 people will receive a 1st runner up bonus prize of a Sal's specialty pizza free for one year (one pizza a month). 11 others will receive the 2nd runner up prize of one free slice of Sal's Pizza for a year (1 slice a week). However, these winners are not eligible for the score prediction grand prize. No one will go home empty handed; participants will get a coupon for a free slice of Sal's Pizza just for registering.
"We're excited to celebrate and share our excitement with our customers," said Sal Lupoli, founder and CEO of Sal's Pizza. "We're hoping we have some big winners to give us all something to celebrate. Good luck!"
To participate, entrants must register each week before the game. The registration period will run from 8/16/12 to 12/28/12.
About Sal's Pizza
Originally introduced in Salem, New Hampshire, Sal's Pizza now consists of 40 locations throughout New Hampshire and Massachusetts. Known for the trademarked 19" 3lb. pizza, Sal's Pizza also offers a wide variety of sandwiches, salads and side dishes. To find a store near you, or for more information, please visit http://www.sals-pizza.com.
For more information, contact Alex Cerda via phone, (817) 946-7233, or e-mail: alex(at)marketingzen(dot)com