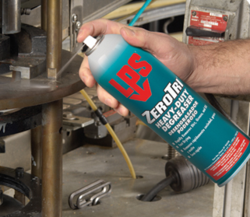 Lake Oswego, OR (PRWEB) August 18, 2012
A quality industrial-grade lubricant is a product that reduces the friction between moving parts, such as gears, rotors, and bearings. It is also a vehicle for transporting foreign substances (such as shavings, filings, and dirt) away from critical components.
A quality degreaser or cleaner is one that can penetrate through thick layers of grease, dirt, oil, and other debris to bring the components to a more functional state.
Creative Safety Supply is now offering LPS Labs brand lubricants and cleaners that offers our customers industrial-grade products that effectively reduce rust, lubricate moving parts, displace moisture, penetrate through dirt, oil, grease and grime, maintain lubricity in high and low temperatures, and resist oil, dust, and dirt buildup.
For more information, contact Creative Safety Supply at 1-866-777-1360, or visit them on the web at http://www.creativesafetysupply.com/lubricants/