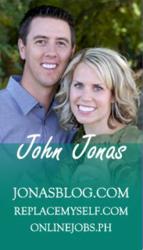 "With our training, you can create and publish content that's higher in quality and greater in quantity, earning you more money," Says John Jonas, creator of ReplaceMyself.com
(PRWEB) August 26, 2012
There's enormous demand for digital content as tablet and ebook reader sales go through the roof. Writers no longer need a book agent or publisher to syndicate their content. With ReplaceMyself.com, writers and business owners can learn to publish their ebooks using Kindle, Barnes & Noble, and iTunes with help from their Filipino virtual assistants.
For the novice, publishing with Kindle, iTunes and B&N can be confusing, time consuming and tedious. The professionals at ReplaceMyself.com have streamlined the process to make publishing digital content faster and more efficient. The training module is tailored to help entrepreneurs and their Filipino VAs work in tandem, keeping the process as simple as possible.
John Jonas, creator of http://ReplaceMyself.com explains how they were able to improve the digital publishing process. "We realized that there are a ton of redundancies involved in ebook publishing. The redundancies bloat the entire process. When you focus exclusively on the unique steps of publishing, it's not really that complicated."
"We cut the fat out of digital publishing. Without the typical redundancies, digital publishing becomes easier and more efficient for you and your Filipino staff. With our training, you can create and publish content that's higher in quality and greater in quantity, earning you more money."
John also discloses that the training module comes with a bonus feature, exclusive to ReplaceMyself.com subscribers. "I can't reveal exactly what it is, but I can tell you that it will enhance your digital publishing by handing you a whole new market."
For free information, entrepreneurs can visit Jonasblog.com, where John Jonas regularly shares tips and advice on outsourcing to the Philippines.
###
ReplaceMyself.com, created by internet entrepreneur John Jonas, is a leading Filipino outsourcing mediator. Since 2007, John has used innovative methods to teach business owners how to increase efficiency and decrease cost by delegating labor to the Philippines. Replacemyself.com offers customized tools to successfully hire, train and manage Filipino virtual assistants.